Few students choose paleontology as a college major - so few that Peking University has been lucky to admit one per year. In two of the last seven years, there were no applicants at all.
But this year, the university found a promising student, Yu Yilun, a Beijing high school graduate who was admitted to study in the highly specialized field that combines biology and geology to learn the history of life on Earth through fossils.
The shortage of students attracted nationwide attention last summer when Xue Yifan, a paleontology graduate at Peking University, posted a photo online. While graduation photos are typically filled with tens or even hundreds of graduates, the one Xue posted - captioned "Paleontology Class 2014, Peking University" - showed only one. Xue stood alone in her academic gown.
The photo triggered a flurry of discussion online. With millions of students completing their university studies in China every summer, a class with a lone graduate is unusual.
Lu Xiaodong, deputy director of Peking University's Office of Education Administration, said the school may be the only one in the country to enroll a single undergraduate student annually for a course of study - not from lack of trying but because few are interested in paleontology.
A lonely subject
According to Lu, paleontology was once under Peking University's School of Earth and Space Sciences. That was in the 1950s to the early 1990s, but the program was canceled for some reasons in 1998.
In 2008, the subject was set up again at the university, this time under Yuanpei College, an experimental education program for undergraduate students. It was named for the university's former president Cai Yuanpei.
Since then, the subject has had one student at each grade level.
"Some grades may not have any student at all" because nobody applies, Lu said, adding that the school didn't intend to limit enrollment; it just worked out that way.
There have been only four graduates in the past seven years.
Chu Zhaohui, a researcher at National Institute of Education Sciences, said the unpopularity of paleontology reflected society's minimal need for it.
"It's now a need-oriented society," Chu said. "People may think paleontology is not so closely connected to their needs in daily life, so they show little interest or willingness to study it."
By contrast, Liu Jianbo, a professor at the School of Earth and Space Sciences who also gave classes to paleontology students, said in an interview with Beijing Youth Daily that graduates in the field were popular among employers, such as museums, land and mining departments, universities with geology programs and paleontology research institutes.
"It is an interdisciplinary subject that utilizes the techniques of some other subjects, such as biochemistry and engineering, to explore evolution and the secrets of life on Earth," he said. "Students have half of their courses in biology and the other half in geology."
Reasons to retain
Because of the low number of paleontology graduates, some netizens wondered whether it's worthwhile to spend much time and money keeping the subject going.
"Unlike liberal arts subjects, some science subjects like paleontology don't need large numbers of students, but they are important and should be retained to meet certain demands," Liu said.
"We have kept the subject in hope of nurturing a group of talents in paleontology," he said, adding that some research institutes, such as the Institute of Oceanology under the Chinese Academy of Sciences, have called for preservation of the subject and have extended invitations to graduates for further study at the institutes.
Chu Zhaohui agreed. "In the eyes of ordinary people, whether this subject exists or not doesn't make any difference. But for paleontology professionals, keeping the subject is a must, as it relates to the inheritance and future development of the subject," Chu said.
"For professionals of a specific subject, the last thing they want to see is a situation where there are no successors, and so development ceases. In that sense, some conditions should be created and provided to preserve the subjects - as Peking University did with paleontology."
Lu Xiaodong said the paleontology program will continue recruiting students in the future.
"Students are welcome to apply for the program, and the university will try to meet their demand for courses after enrollment," he said.
He added that despite the small number, each paleontology student is excellent and unique.
According to a news report in Southern Metropolis Daily, Zhang Boran, the first student of paleontology at Peking University, is now studying for his doctorate in the United States at the University of California, Berkeley.
Xue, who graduated last year and posted the photo, was admitted to a master's degree program in computational biology at Carnegie Mellon University in the US.
And Yu, the recently admitted student, is a big fan of dinosaurs and has published two academic papers in paleontology journals.
"We are very proud of these students," Lu said.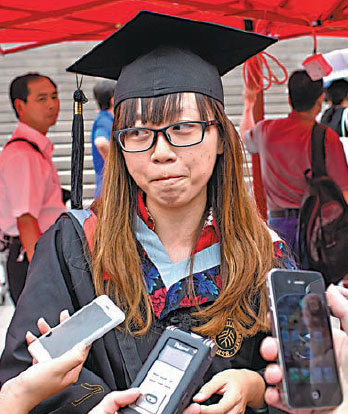 Xue Yifan, a paleontology major at Peking University, talks to media at a graduation ceremony in July last year. Provided by Beijing News