Short summer breaks help children adjust to foreign study methods and develop life skills
To prepare children for long-term study overseas, increasing numbers of Chinese parents send their children on brief foreign study trips during summer breaks.
According to a recent report, 74 percent of parents are willing to pay at least 20,000 yuan ($3,140) for a short-term overseas study tour, and 45 percent are willing to pay at least 30,000 yuan.
Ctrip, a Chinese online travel service provider, released its overseas study tour report for the summer break of 2015 recently. It showed strong demand for overseas study tours, with 73 percent of clients choosing overseas study tours or summer camps instead of domestic study tours.
"One product provided by Ctrip cost 48,800 yuan for 17 days and still got full booking because it was an authorized product of the Boy Scouts of America," said Yan Xin, Ctrip's publicity officer.
A 43-year-old teacher who asked to be identified only by her surname, Song, sent her 10-year-old daughter to New Zealand for two weeks at the end of July. The trip included a one-week class with local students as well as a one-week sightseeing tour.
"The whole trip cost almost 40,000 yuan, but I think it is not expensive," said Song, adding that she really liked having Chinese children take real classes for one week.
"I have not made up my mind whether to send my child to study overseas or not," Song said.
"But I think this tour helped her to figure out whether she's fit for their education method. I will send her on another trip if there is a good project. Money is not an issue."
According to Liu Ting, assistant vice-president of the New Oriental Education and Technology Group Inc and director of its overseas study tour promotion and administration center, the market for Chinese overseas study is growing rapidly.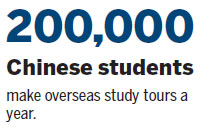 The number of Chinese student visits a year is 200,000. Summer tours have taken place in more than 40 countries, with the majority of those involving junior school students. According to the Ctrip report, Australia, the United States and the United Kingdom ranked as the top three destinations for Chinese students. About 60 percent of them were junior school students.
Bai Jiaoyu, general manager of the English First Schools for Kids and Teenagers in China, said the trend of parents sending students to study overseas at younger ages has contributed to the boom in overseas study tours.
"About 40 percent of our clients are from middle school, then some from high school and college," said Bai. "Three percent of them have an overseas study plan. So they are taking the tour to find suitable schools."
"More parents are sending their children to broaden their vision and develop the capacity to take care of themselves," Bai added.
"Parents want to train their children to communicate with overseas friends and to help them get more familiar with overseas living, culture and study methods."
y SUZHOU
suzhou@chinadaily.com.cn