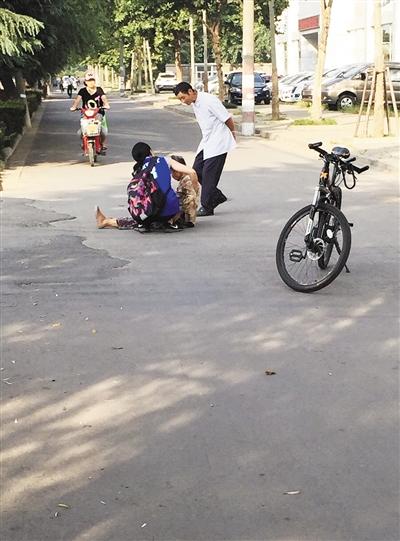 Scene of the accident. [Photo from web]
Yuan Chen, a college student in East China's Anhui province, was accused of knocking down an elderly woman on September 8.
On September 23, Yuan requested a review of her case by local traffic authorities.
Officials said they will process the request according to official procedures and reply in five business days.
Yuan has maintained all along that she was trying to help the senior to get up after a fall since September 8, 2015, the day when she first posted a photo of the incident on her Weibo account, a Twitter-like social network site in China.
On September 21, 2015, police said they determined that Yuan was responsible in the accident. Police said it appeared Yuan had made contact with the senior, leading to the fall.
The conclusion from the police, issued as an official paper, reportedly did not list any evidence in detail, however.
Yuan requested a review of the case on Wednesday morning and posted a long entry on her Weibo account to defend herself .
Meanwhile, the elderly woman's daughter-in-law says their side is satisfied with the conclusion and will not ask for reviews.
Police stated on Wednesday afternoon that the conclusion paper is legally effective, adding what Yuan had posted on her Weibo account might be fabricated.
Police also said that they do possess evidence, which will be presented if Yuan files a civil lawsuit.
The story went viral online and has triggered debates among Chinese Internet users on the necessity of providing help to strangers in need.