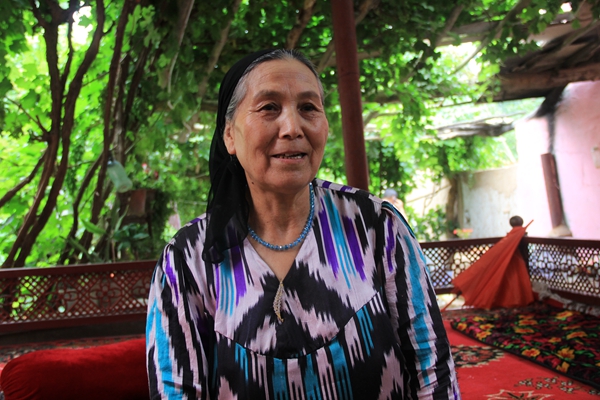 Ajiahan Wuxur, 68, lives in the Frog Alley of Grape Valley, Turpan, Xinjiang Uygur autonomous region.[Photo by Xu Wei /China Daily]
As this year marks the 60th anniversary of the establishment of the Xinjiang Uygur autonomous region, China Daily asked elderly people across the region to share their personal stories and visions for the future.
Ajiahan Wuxur never expected the pilaf she made would be so well received by her guests. The 68-year-old is among the oldest entrepreneurs in Grape Valley of Turpan, as local authorities encourage the residents to provide catering and accommodation to tourists in their homes.
"Previously our family merely relied on a few grape trees inside the valley for our livelihood. There was no way to increase the income as the grape production each year was fixed," she said.
Wuxur said life in Turpan has undergone huge changes over the past 60 years, changes that were beyond words.
"In our childhood we were told how wonderful the life of emperors would be. But I think our life at present would be even better than theirs," she said.
Her family restaurant has so far received more than 500 guests since May 2014, and she was able to pay up the bank loans she borrowed to refurnish her home for the catering business.
"I merely hope that we can maintain the level of tourism development in the city so that our living standards can keep improving," she said.