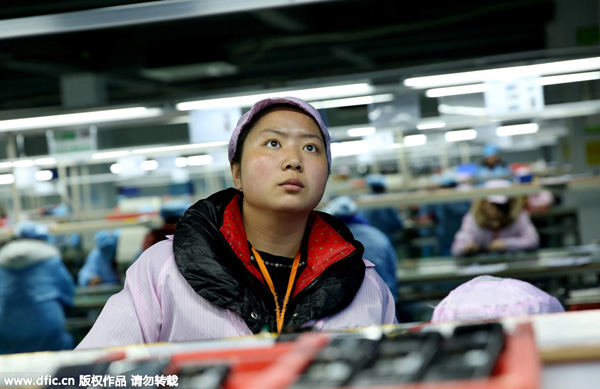 A returned migrant worker works at a factory in Huaying, Southwest China's Sichuan province, March 2, 2015. [Photo/IC]
The Chinese government has promised to support for migrant workers, college graduates and army veterans who wish to return to their rural hometowns to start businesses amid a national campaign to boost entrepreneurship and employment.
The State Council, China's cabinet, released a guideline recently saying the government will lower the threshold for them, offer tax breaks, cut administration fees, subsidize business loans and optimize supporting policies.
"Cost reduction is vitally important for startups. These policies serve them right," said Zhou Tianyong, professor with the Party School of the Communist Party of China Central Committee.
Zhou further advised entrepreneurs to attend training sessions to know market better, to be risk-conscious and to improve themselves.
"We must make full use of existing resources like economic development zones and innovation parks to avoid unnecessary duplication of investment," said Chen Yu, deputy head of the China Association for Employment Promotion.
E-commerce startups in rural areas should be prioritized since they are lowcost, diversified and efficient, said Chen.
"Migrant workers, college graduates and army veterans willing to return to their rural hometowns to start new businesses are important forces for the national campaign to boost mass entrepreneurship and innovation given that they have accumulated certain capital, ability and experiences," said Xin Changxing, vice minister of human resources and social security.
The government promised to ease the business registration procedure for these small businesses and allow them to enter rural infrastructure development and public services that are normally operated by the government.
They will enjoy waivers or reductions of taxes and administrative fees, be considered for government funds for agricultural development and be offered certain allowances, according to the policies.
The government also promised to introduce these startups to private investors and to encourage state-run rural banks to provide loans.
Migrant workers, college graduates and retired soldiers have better contacts with the outside world than long-time farmers and may bring new business ideas and management experience to rural areas, the State Council believes.
They are encouraged to engage in businesses like farm produce, local specialty handicrafts and tourism as well as to use the Internet to promote their businesses.
The government also pledged to invest more in rural infrastructure, especially IT facilities, and to provide business training for those who are interested.