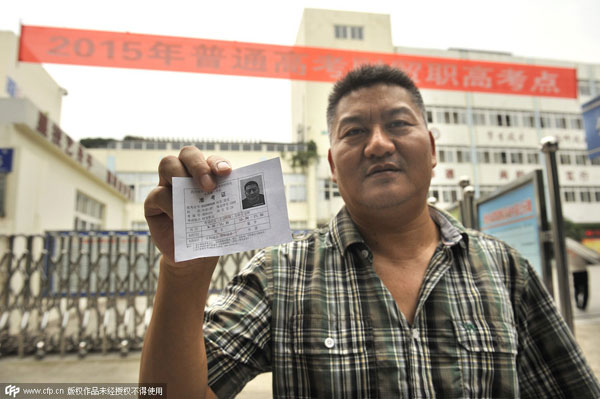 Liang Shi shows his admission ticket before attending the Gaokao in Chengdu, Sichuan province, June 7, 2015. [Photo/CFP]
Liang Shi, a 44-year-old native of Chengdu, capital of Southwest China's Sichuan province, took the national college entrance exam or gaokao for the nineteenth time this year, finally deciding to receive formal training this time, Huaxi Metropolitan newspaper reported on Tuesday.
Liang Shi first sat Gaokao when he was 16 but did so poorly he was not accepted by any college. The subsequent times, he managed to place into a local technical school but dropped out because he felt he could do better if he retook the test and has been trying his luck ever since. This year is his nineteenth time taking the exam.
He likes tea. So he prepares for the exam in a teahouse at least 270 days in a year.
"It is so-so," said to the reporter when asked about his performance in this year's exam.
In fact, he does not enjoy the support of his family in his various gaokao attempts. Faced with his repeated failure, his wife is very disappointed to him.
His son used to be very angry with him and didn't talk to him for four years. Regarding his father's strivings, he is much more accepting today. "Gaokao is his own pursuit and I won't interfere", he said.
Mrs. Zhu is his only supporter. She is Liang's Chinese tutor. "He has the potential but he is hard to quiet down for study," Zhu said, "if he tries hard he can make it".
Liang has a job. He began to sell building materials in 1995. He now owns a store and employs nearly 200 people.
"Next year I will receive formal training and make my final attempt", he said, "If I still fail, I will stop taking the exam".