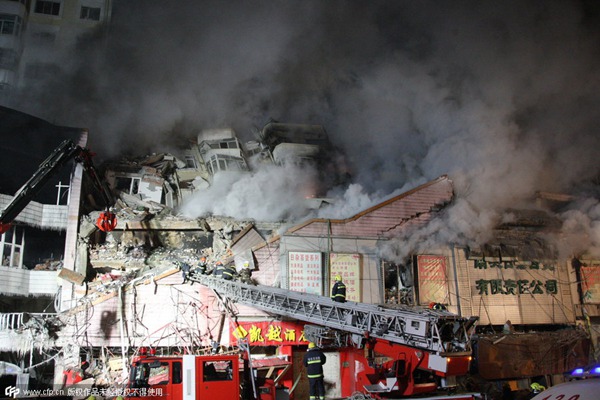 The building housing a warehouse suddenly collapses at around 10 pm, January 2, 2015 after hours of burning. The warehouse in Harbin, capital city of Northeast China's Heilongjiang province is on fire at about 1 pm. Black smoke could be seen from kilometers away. The warehouse is part of a 11-storeyed residential building. Residents nearby have been evacuated. [Photo/CFP]
HARBIN - The death toll of a fire in northeast China has climbed to five as the bodies of two missing firefighters were found, local authorities said on Saturday.
In total, five firefighters were killed and another 14 injured in a warehouse blaze in Harbin city of northeast China's Heilongjiang Province, according to rescuers.
The age of the deceased ranged between 18 and 22.
The firemen were buried by debris while trying to put out the fire, which burnt down the third floor of a market warehouse at the Beifangnanxun ceramics market at 9:37 p.m. on Friday, burying firemen on the second floor.
The 14 injured firemen were rushed to hospital. Three of them were in critical condition.
The warehouse is part of a 11-story residential building. The first to third floors are used as warehouses and the rest eight floors are residential.
The fire broke out at 1:14 p.m. on Friday. The open flames were put out at about 11 a.m. on Saturday. Firemen are still spraying water at the site to extinguish the smouldering flames.
About 2,000 local residents nearby have been evacuated to temporary settlements.
The local civil affairs department has dispatched 500 cotton-padded clothes and 1,000 quilts to the affected residents.
The Harbin municipal government has ordered an overhaul on all places with high density of population.
The cause of the fire is being investigated.
The Ministry of Public Security (MPS) has dispatched experts to Harbin for disaster relief and urged all fire departments to carry out examinations so as to rule out hidden dangers.
"Dense population areas and places that are prone to combustion and explosions should be particularly inspected," said Yang Jianmin, an official with the firefighter department of the MPS.
Training on fire safety should also be made to grassroots level residents, including escaping drills and self rescue.