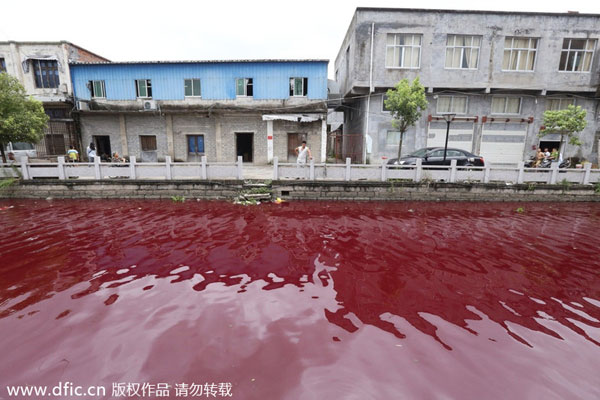 View of the red river in Xinmeizhou village, Longgang town, Cangnan county, Wenzhou city, East Chinas Zhejiang province, 24 July 2014. [Photo/IC]
An inner city waterway in the eastern city of Wenzhou was found to have been inundated by an influx of blood-red water this morning.
Local residents say the river was running normally at 4am, but it started to redden at around 6am, and in no time turned as crimson as blood.
One villager who has lived his whole life by the river side said this has never happened before.
The villager recalled that there wasn't a chemical plant along the upper stream.
Inspectors from the Wenzhou Environmental Protection Bureau are now at the site to take samples and analyze the cause of the incident.
Wenzhou is a well-known town in East China's Zhejiang Province.
The place, which has three sides surrounded by mountains and one side facing the Pacific ocean, is widely regarded as the best example of Chinese entrepreneurship and industrialism after the country's opening up back in the 1980s.