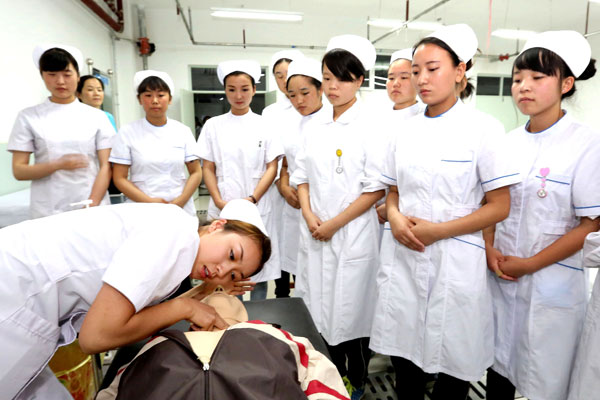 Nursing students in Hami prefecture, Xinjiang Uygur autonomous region, learn first-aid during a class on Thursday at the prefecture's first senior vocational school. CAI ZENGLE / XINHUA
China's education authority denied on Thursday widespread media reports that about 600 undergraduate colleges will be converted into skills-based senior vocational schools.
"The core plan is to establish a management system to classify higher institutes, some of which might be categorized as applied-technology oriented," said Ge Daokai, director of the vocational and adult education division of the Ministry of Education.
For some schools, only some skills-oriented majors need be transformed into vocational education, he said.
The basis of the transformation is to nurture talented people to serve society's needs, Ge said.
In a recently released State Council decision on promoting development of modern vocational education, top authorities encouraged willing undergraduate colleges to transform themselves into senior vocational schools.
The Ministry of Education said further details, including a timeline and affected schools, will be released later.
China's vocational education is receiving unprecedented attention from the central government as China seeks to ensure high employment and nurture talent during the nation's economic transformation.
"A society's education structure is needed to fit the society's economic status," said Lu Xin, vice-minister of education. As China works to upgrade its products from cheap "made in China" to innovative "created in China", skill-based talent will be in large demand, she said.
"There is an urgent need to reform our current education system, which has been struggling to provide high-quality talent with the skills and knowledge that meet the demand at the production frontline," she added.
China's vocational school graduates currently have a high employment rate. In a difficult job market, where new college graduates struggle for job offers, vocational school graduates have an easier time finding work.
The Ministry of Education said that over 95 percent of secondary vocational school graduates and over 90 percent of senior vocational school graduates land a job.
"The average annual income of vocational school graduates reaches 30,000 yuan ($4,800), and some get paid more, even 100,000 to 200,000 yuan a year," Lu said.
Currently, 29.34 million students study at 13,600 vocational schools and colleges across China. But vocational education has long been undervalued.
"Many students take vocational school as a second choice," said Liu Qiaoli, a researcher at the National Institute of Education Sciences who specializes in vocational education. In Western countries, particularly in Europe, vocational school degrees are seen as being on a par with university degrees.
"Society acknowledges both kinds of talent - skill-oriented and academic-oriented," Liu said.
Liu believes that to improve Chinese vocational education recognition, the most important step is to improve the quality of vocational education.
"The graduates' quality is the best way to form a reputation," Liu said.
Yin Jie, deputy director of the Shanghai Education Committee, said that vocational education development will ease the grim employment situation.
"Despite technical innovation, the lack of vocational skills for frontline workers has hampered the development of technologies and the upgrade of traditional manufacturing," Yin said.
China's top authorities pay a lot of attention to developing vocational education.
Premier Li Keqiang attended the National Vocational Education Conference on Monday. He pointed out that vocational education should serve the upgrading of the industrial structure; that professional skills should be deeply integrated with professionalism; and reforms should be introduced into the development of vocational education.