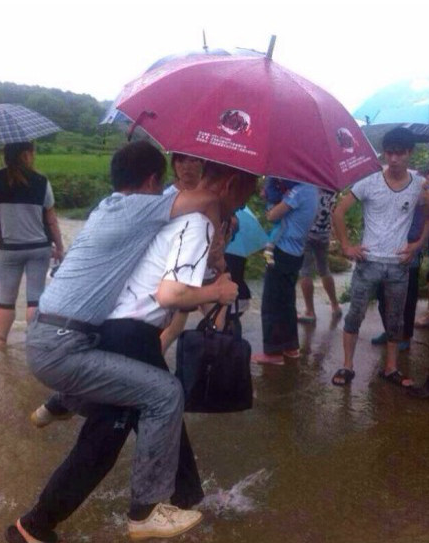 A picture shows Wang Junhua being given a piggyback ride across a flooded path in Guixi city of Jiangxi province on June 20. [Photo/news.qq.com]

NANCHANG - A city official in the eastern province of Jiangxi was removed from his post after a picture showed him being given a piggyback ride across a flooded path, local authorities said.
A picture, widely distributed on the internet, shows a man wearing leather shoes being carried on another man's back through ankle-deep water in Lantian Village. A caption described the man as an official of Guixi city government.
Guixi confirmed that the piggyback ride took place on Saturday during the search for village children who had fallen into a swollen river.
Wang, vice director of a government office, was about to cross a flooded path when Ding, a low level clerk offered him the ride. The inappropriate act had a negative social impact and tarnished the image of party officials, local authorities said.
In 2013, another official was dismissed after a similar picture made a splash online. In that case, the ferryman was a villager from Zhejiang Province.
Jiangxi has been hit by torrential downpours since June 16, with more than 18,500 local residents displaced. In Lantian Village, three primary students fell into the river on their way home. One was rescued, one was found dead and the other remains missing.