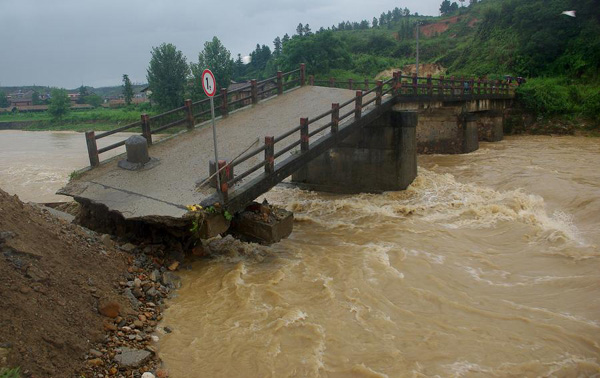 Photo taken on June 20, 2014 shows a bridge destroyed by rain-triggered floods at Liming Village in Fuzhou City, east China's Jiangxi province. More than 2,700 people were evacuated after downpours battered Fuzhou City on Thursday and early Friday. [Photo/Xinhua]
BEIJING - Rainstorms and floods have continued to ravage the eastern province of Jiangxi and central Hunan Province, forcing authorities to initiate a grade IV emergency response on Saturday.
The Ministry of Civil Affairs and the China National Commission for Disaster Reduction have dispatched emergency response teams to the regions.
Jiangxi's local bureau of civil affairs reported that at least five people had died across eight cities and 43 counties in the province as of 10 am on Saturday. Downpours have swept the province since Wednesday.
About 789,000 people were affected and 123,000 have been relocated.
The rainstorms, which have caused the collapse of or substantial damage to 4,000 houses and affected 63,100 hectares of crops, have led to direct economic losses of 530 million yuan (84.85 million US dollars) in Jiangxi.
According to the civil affairs authority in Hunan Province, flooding had left seven people dead and four missing across ten cities and 47 counties. About 2.08 million people in Hunan were affected and 171,000 have been relocated.
The rainstorms also caused severe damage to 9,700 houses and 122,700 hectares of crops, and direct economic losses of 1.57 billion yuan in the province.
Relief materials, including tents and cotton blankets, had been sent to disaster-hit regions.
A grade IV response, the lowest in the country's emergency response system, means a 24-hour alert, daily damage reports, and dispatching money and relief materials within 48 hours.