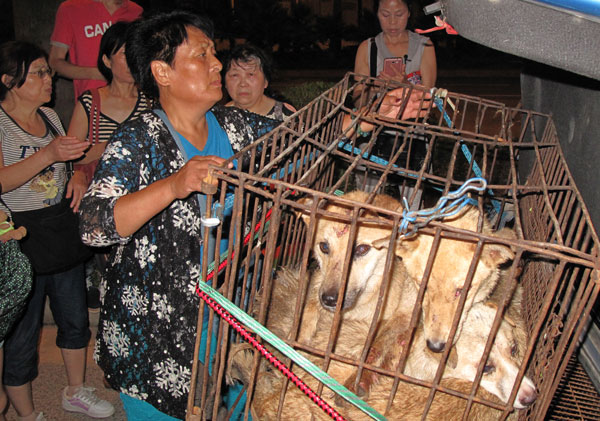 Yang Xiaoyun, founder of The Home To All, an animal shelter in Tianjin, fixes a cage carrying dogs in Yulin on Thursday. Yang and other volunteers stopped a tricycle carrying dogs to be eaten and saved them. HOU LIQIANG / CHINA DAILY
More photos:Fur flies in Yulin over dog meat festival
Animal husbandry authorities in Yulin, in the Guangxi Zhuang autonomous region, have prevented more than 1,700 dogs from entering the region as of Friday morning because of a lack of quarantine documents.
Animal rights advocates said they believed most of the dogs were stolen. 
Yulin locals celebrate the summer solstice, which falls on Saturday this year, with dog-meat hotpot, lychees and liquor. At least 10,000 dogs are eaten during a typical festival, which has spurred opposition from animal rights advocates nationwide in recent years.
Three vehicles transporting dogs into the region were stopped by the Yulin Animal Husbandry Bureau and turned back, said Zhang Lin, the bureau's chief economist.
The Ministry of Agriculture ruled that there must be a quarantine document for every dog being transported, although the carrier will usually be allowed to enter the region as long as the number of dogs in the vehicle matches the quarantine document, Zhang said.
"One vehicle carried 1,120 dogs, one carried 568 and the other carried 35," he said.
"But we cannot do more about that because there are no laws or regulations that authorize us to punish transporters now in China."
Animal rights groups and dog lovers believe that it's possible that many of the dogs on the three vehicles, as well as those sold in local markets, were stolen. Their investigations showed there are no dog farms near the city.
Guo Peng, director of the research center for animal protection at Shandong University, conducted an investigation in the city at the end of 2013 on the eating of dog meat.
Guo said the color, size, species and age of dogs sold at each site of the city varies widely, which shows that they are not coming from dog farms. "Many dogs still have collars," she said.
Meanwhile, Guo found in nearby Shatian town that dogs raised by local residents are often stolen.
"Some farmers lost more than three dogs in just two years," said Guo, adding that the frequent dog theft makes it hard to find any dogs older than 3 years.
In a 2011 investigation in Jinan, Shandong province, Guo found that more than 87 percent of families in a village reported once losing a dog.
While there is no proof showing where those dogs went, Guo said she found Internet advertisements for transporting dogs from Jinan to Yulin.
Guo said the low price of dog meat also points to the possibility that many dogs are stolen. Currently in Yulin, dog meat is sold at a price of 30 yuan ($4.80) to 34 yuan per kilogram.
Du Yufeng, director of the Boai Animal Protection Center of Guangyuan in Sichuan province, said it can cost up to 1,500 yuan to raise a dog for one year, with several hundred yuan more needed for neutering and inoculation.
"It's impossible that dogs sold so cheaply are from dog farms, and that they are raised to sell. It's difficult to raise many dogs as they often fight with each other. And dogs easily catch infectious diseases," she said.
Li Zemin, along with other retailers selling dogs in the market, however, said he bought dogs from farmers living around Yulin.
"I bought them separately from different farmers. Sometimes female dogs they raise have too many baby dogs. They don't want to raise so many, and so they sell them," the 30-year-old said.