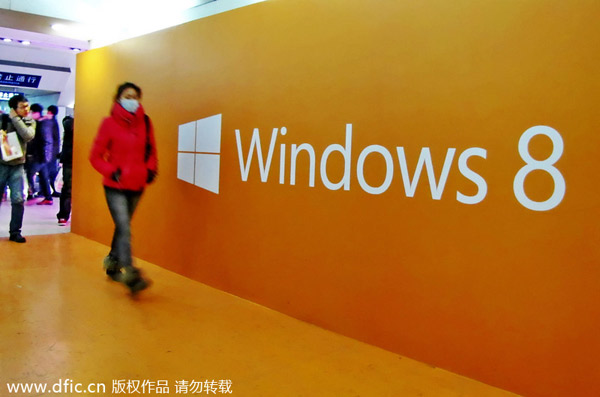 A woman walks past an advertisement for Windows 8 in Shanghai January 8, 2013. [photo/IC]
China's ban on Microsoft Corp's Windows 8 operating system in new government computers was "extremely unexpected", the US software giant said.
"Microsoft has been working proactively with the Chinese central government procurement center and other government agencies through the evaluation process to ensure that our products and services meet all government procurement requirements, and we'll continue to do so," Washington State-based Microsoft said in a statement released to China Daily.
A notice posted on the government procurement center website pertaining to the purchase of energy-saving products said "all kinds of computers, including desktop, laptop and tablet personal computers bought for government use are forbidden from being installed with Windows 8". The statement gave no explanation, and it was not clear how the Windows 8 ban was related to energy savings.
Windows 8 replaced Windows XP after Microsoft stopped providing the general public with XP support and security updates on April 8. The company still offers extended XP support to enterprise customers with which it has lucrative support contracts, such as the Netherlands and UK governments.
Xinhua news agency attributed the Chinese government's decision to exclude Windows 8 from new government PCs to an effort to ensure security after Microsoft ended its technical support for the 13-year-old XP system. The government "moved to avoid the awkwardness of being confronted with a similar situation again in the future if it continues to purchase computers with a foreign OS", Xinhua said. The article did not elaborate. XP, with a 70 percent share of the China market, is still the dominant operating system at most government companies.
Two weeks ago, China's national broadcaster, CCTV, reported that the Ministry of Industry and Information Technology was trying to get Windows XP users to migrate to a domestically created operating system based on Linux even though Chinese homegrown operating systems, which account for about 1 percent of China's PC market, are said to generally lack developed application technology and are heavily based on the Android system.
Operating systems makers in China have claimed that hardware makers' failure to support their products has hindered the development of homegrown systems.
The CCTV report said XP's demise raises an opportunity for a homegrown product and that at least six different Beijing companies were vying to fill the void.
Meanwhile, Microsoft, which opened its first China office in Beijing in 1992, continues to lose sales due to unlawful copying of the company's core Office and Windows programs. In 2011, former Microsoft CEO Steve Ballmer said Microsoft's Windows sales were only about 5 percent of what it got in the US, even though PC sales in the two countries were almost equal, because of piracy.
Among other measures, the Chinese government has ordered all state institutions to buy licensed software.
The Xinhua article said that although major Chinese software security companies have promised to provide technical assistance to guard against hacker attacks, Windows XP users feel vulnerable.
Security expert An Yang said the first step is to promote the use of Chinese-designed OS among official users. The systems' acceptance by ordinary citizens will be determined by market forces, An said.
michaelbarris@chinadailyusa.com