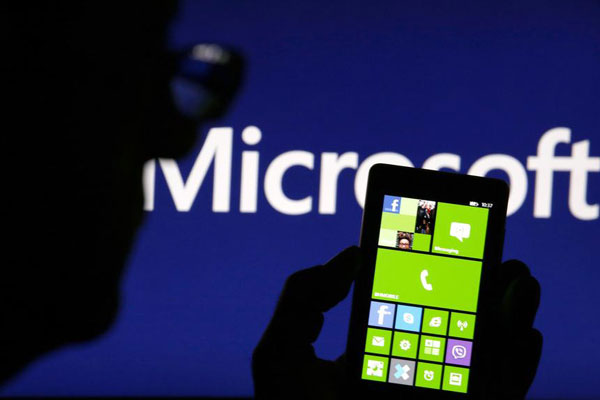 File photo illustration of a man is silhouetted against a video screen with Microsoft text posing with Nokia Lumia 820 smartphone in the central Bosnian town of Zenica Sept 3, 2013.  [Photo/Agencies]
The Ministry of Commerce on Tuesday agreed to conclude an antitrust investigation into the sale of Nokia Corp's devices and services division to Microsoft Corp, paving the way to boosting the two companies' business and sounding the alarm for Chinese smartphone makers.
The deal, announced in September, received approval from the European Commission, the United States Department of Justice and other jurisdictions, and is expected to close later this month.
Regulatory approval from China for the merger has been regarded as a critical final step.
Still, after a long-lasting investigation, the ministry did set some conditions on the Nokia-Microsoft deal, including stipulating that fees not be raised on its mobile phone and wireless technology
patent
s.
"It is the most complicated case we have received since China adopted its Anti-Monopoly Law in 2008," Shang Ming, director-general of the anti-monopoly bureau of the ministry, told a news conference in Beijing. "And we have concerns that China's smartphone market will be affected to some extent."
China is a key mobile devices market, representing one-third of global sales volume. Last year, 320 million smartphones were sold in the country.
Discussions about the merger are focusing on whether the deal will help reshape the Finnish company's global business, especially in the Asian market, and buoy Microsoft's Windows Phone devices.
The acquisition is also regarded as a potential threat to local mobile phone manufacturers as Chinese vendors worry about increasing fees on patents.
"The government should work harder to control the opportunism and unfairness underlying this deal as Chinese smartphone makers are burdened with high patent fees," said Mei Xinyu, a foreign trade expert at the Chinese Academy of International Trade and Economic Cooperation, a think tank of the Ministry of Commerce.
Mei pointed to the recent antitrust case of US mobile chipmaker Qualcomm Inc, accused of abusing its dominance in wireless telecommunication copyright and chip markets.
"Qualcomm is just selling chips in the market, but it has been charging patent fees at terminal device prices," added Mei.