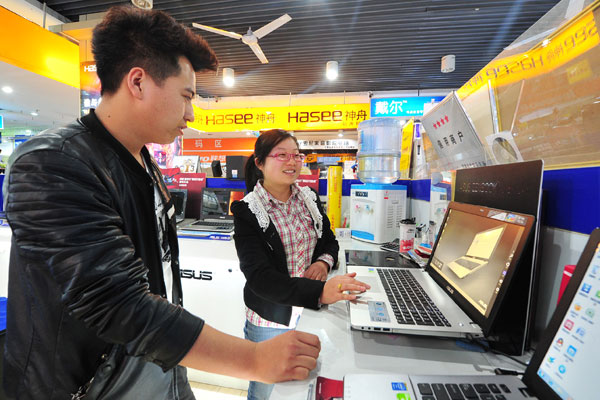 Chinese Internet firms said they will offer cyber help to Chinese users of Windows XP after Microsoft Corp stopped providing technical assistance for operating system on Tuesday. PENG ZHAOZHI/XINHUA
Cybersecurity firms able to offer service to 350m users of system
Chinese Internet firms have stepped up to offer security support to hundreds of millions of Windows XP users in China after Microsoft Corp stopped providing technical assistance for the 13-year-old operating system on Tuesday, a move that may serve as growth catalyst for China's nascent cybersecurity market.
Tencent Holdings Ltd, China's largest Internet company by market capitalization, announced on Tuesday that it has strengthened its ties with Microsoft, offering free security support to Chinese Windows XP users through its own anti-virus and security service unit, Tencent Computer Housekeeper.
Wu Bo, the unit's deputy general manager, said his company is working with Microsoft's core technology team to establish a defense system to protect Chinese Windows XP users from Web viruses, malware and software bugs.
"We have also launched a 24-hour self-service online clinic for those who have security problems with their XP systems. Moreover,
Lenovo
's 2,400 brick-and-mortar service centers across China have also joined in the program to offer security support to XP users," said Wu.
The announcement from Tencent on Tuesday is the first detailed plan released after the launch of a project jointly initiated by Microsoft, Tencent and Lenovo on March 7. The project aims to safeguard XP users in China before they migrate to other operating systems.
A recent survey from the Beijing-based China Internet Network Information Center showed that about 63.1 percent of respondents had no plans to upgrade to a newer operating system and that more than half intend to continue using Windows XP as long as possible.
Given the fact that Windows XP has an estimated 350 million users in China, about 200 million of them are expected to keep using the system after April 8, which gives anti-virus companies and cybersecurity solution providers a potentially large user group, said Wang Jun, an analyst with Analysys International.
Along with Tencent and Lenovo, several of China's cybersecurity solution providers, including Kingsoft and KeenTeam, have also joined Microsoft, Tencent and Lenovo in building a "co-defense system" for Windows XP users in China.
Wang said that by offering security support to China's Windows XP users, these companies not only can gain access to about 200 million users but also access to a potentially large cybersecurity market in China..
"Apart from offering free security support now, they can also monetize these Windows XP users in other ways - for example, advising them to download other software while helping them upgrade their XP systems," he said.
ABI Research, a London-based technology market intelligence company, estimated that market revenues from cybersecurity totaled $4.9 billion in 2012 in China and could potentially double by 2017.
The company said in a report last June that China's market for cybersecurity is rapidly growing, highly lucrative and potentially vast.