BEIJING - In the latest blow to the Bitcoin market in China, BTC China -- the country's main Bitcoin trading platform -- has suspend recharge services using the Chinese currency.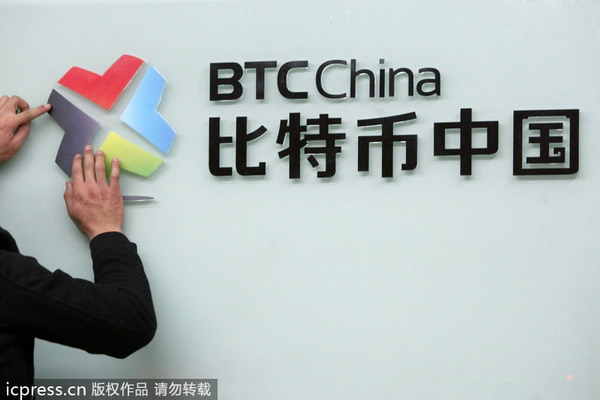 BTC China is China's largest Bitcoin trading platform aimed at investors trading with the Chinese currency renminbi, or yuan. Bitcoin has seen another round of price surges worldwide this week, and researchers have said its popularity among Chinese investors may be contributing to the bull market. [Photo / icpress.cn]
BTC China's website said it would continue Bitcoin denominated recharge, Bitcoin withdrawal and Renminbi cash withdrawal, while continuing its daily operations. BTC also promised alternative recharge means for investors.
The website said the suspension was for "reasons known to all", but failed to specify them. The announcement comes as the price of the digital currency in China nosedives, triggered by a warning from the People's Bank of China (central bank) along with the banking, insurance and securities regulatory commissions and the Industry and Information Technology Ministry.
The notice stated that financial and payment institutions may not accept the Bitcoin as legal tender; price products or services in Bitcoin; engage in transactions involving Bitcoin; or accept insurance related to Bitcoin.
About one hour after the notice, the price of one Bitcoin at BTC China dived from 6,970 yuan ($1,140) to just over 4,500 yuan, down by as much as 35 percent, and in the past two weeks, price has continued to sink like a stone.
At around 7 p.m. Beijing Time on Wednesday, the bid price stood at just 2,023 yuan.