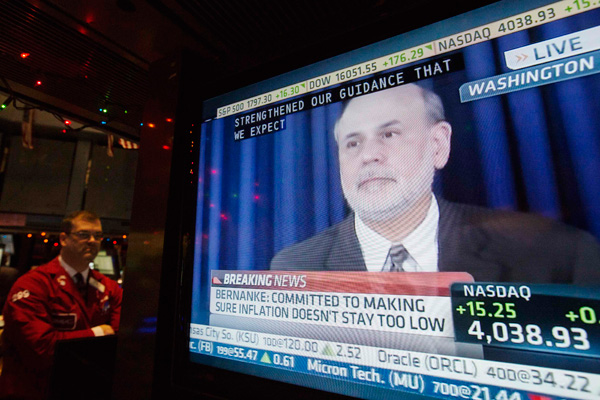 A trader listens to an announcement by the US Federal Reserve on the floor of the New York Stock Exchange in New York, on Dec 18, 2013. The US Federal Reserve announced plans to reduce its pace of bond purchases by $10 billion.[Photo/Agencies]

WASHINGTON -- The US Federal Reserve announced on Wednesday that it will reduce its pace of bond purchases, the third round of quantitative easing program, by $10 billion starting in January.
In what amounts to the beginning of the end of its bond-buying program, the central bank will cut back on its monthly asset purchases from $85 billion to $75 billion, with $10 billion trimmed equally from mortgage-back securities and Treasury bonds, the Fed said after a two-day policy meeting of the Federal Open Market Committee, the Fed's powerful policy setting panel.
The policy shift comes after US economic activity is expanding at a "moderate" pace, and labor market has shown steady improvement, the Fed said in a statement.
Since the onset of the financial crisis, the Fed has kept its short-term interest rate at the historically low levels and completed two rounds of quantitative easing programs, known as QE1 and QE2. It is now purchasing longer-term government debt and mortgage-backed securities at a pace of $85 billion per month.