A dramatic confrontation between Chinese activists and Japanese vessels took place on Thursday as senior officials of both sides tried to ease territorial tensions over the Diaoyu Islands, which have been China's for centuries.
Observers said the incident prompted urgent calls on both sides to rein in the situation, reduce the increasing risks and make tangible progress in bilateral communications.
Foreign Minister Yang Jiechi called for steady policies toward China from the new Japanese cabinet when he met Natsuo Yamaguchi, the visiting party leader of Japan's pacifist New Komeito, a junior ruling partner in coalition with the conservative Liberal Democratic Party.
Yamaguchi came to China with a letter from Japanese Prime Minister Shinzo Abe seeking a possible breakthrough in the political impasse. Tokyo's tangible moves are expected to improve the strained ties, and maintaining the broad perspective of bilateral relations "requires a proper resolution of sensitive bilateral issues, including the Diaoyu Islands dispute", the minister said.
Yamaguchi stressed the huge shared interests of the two largest Asian economies and said "existing differences should be shelved through dialogue".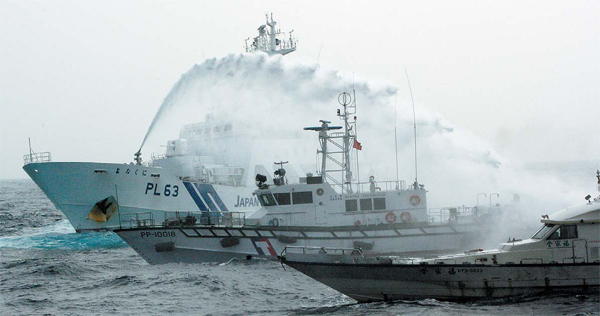 A Japanese coast guard vessel deploys a water cannon against a Taiwan boat on Th ursday as a Taiwan coast guard vessel maneuvers between the two in waters near the Diaoyu Islands. The Taiwan vessel was carrying volunteers to the islands but was forced to turn back.[Photo/Agencies]
After keeping a low profile for two days following his arrival in Beijing on Tuesday, Yamaguchi embarked on a series of meetings with key officials on Thursday, including Wang Jiarui, head of the International Department of the Central Committee of the Communist Party of China.
On Thursday a fishing vessel containing a group of activists from Taiwan was obstructed by Japanese coast guard ships in the waters surrounding the Diaoyu Islands and failed to make a landing.
Escorted by four coast guard ships from Taiwan, the "Happy Family" fishing vessel departed from northern Taiwan in the early morning before it confronted eight Japanese coast guard ships in the waters near the Diaoyu Islands at about 9:40 am.
The fishing vessel has seven people onboard, including several well-known non-governmental activists, one captain and an Indonesian worker. Japanese ships obstructed the vessel by making waves and emitting black smoke, and later spraying water toward it. Taiwan's coast guard ships responded with water spray and LED signals and used an audio amplifier warning the Japanese from obstructing the navigation of the vessel.
As the waters witness more standoffs between vessels and aircraft from both sides, the risk of a potential conflict is rising. Yet "both sides know really well that major combat cannot bring a resolution to the issue", said Zhang Tuosheng, a researcher at the China Foundation for International and Strategic Studies.
Special coverage: