Efforts to help street children will be boosted, a minister said as he acknowledged the challenges in preventing children ending up on the street in the first place.
The death of five boys, sheltering in a dumpster in Guizhou province in November, exposed weaknesses in the system built to protect children, Civil Affairs Minister Li Liguo told China Daily in an exclusive interview.
"The lack of family responsibility was an element in the tragedy, but it also reflected flaws in our protection of children," he said.
"We must prevent vulnerable groups of children from begging and wandering the streets," he added. The term "vulnerable groups of children" usually refers to the homeless, the orphaned, children infected by HIV/AIDS, or children whose parent or parents are in prison or living in poverty.
The five boys, aged 9 to 13, inhaled deadly fumes after lighting a fire to battle the cold in a large waste container in Bijie, a city around 20 km from their village.
Their bodies were found by a trash collector.
The ministry has launched a campaign dedicated to helping vagrant children return to school.
The campaign allows community organizations to intervene when they find parents or guardians have not taken care of children.
Li said the government will encourage society to participate in helping vagrant children.
However, he admitted that challenges remain in helping children who are manipulated by adults to work on the street.
It is also difficult to help children without parental care, dropouts and those suffering from domestic violence, he said.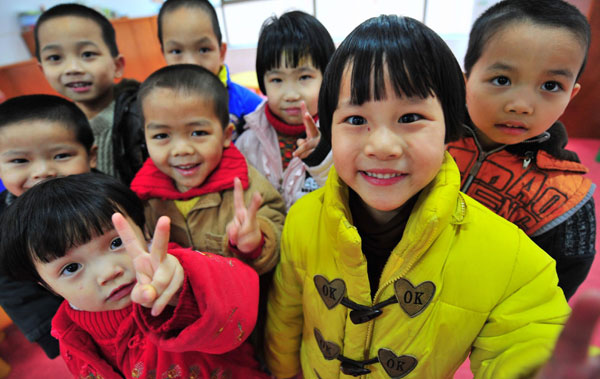 Children pose for a photo at a orphanage in Jinjiang, Fujian province, Jan 22. The 23 children were abducted by kidnappers to sell until they rescued by police in 2005, but they have been unable to trace their parents. [Photo/Xinhua]