Tourists from 45 countries will be able to enjoy a 72-hour visa-free stay in Shanghai with all-round customized traveler services, sources said on Thursday.
Starting on Jan 1, tourists from 45 countries who have third-country visas and plane tickets can apply for a transit without a visa application in Shanghai. The city is the second on the mainland after Beijing to launch the new visa plan to boost tourism.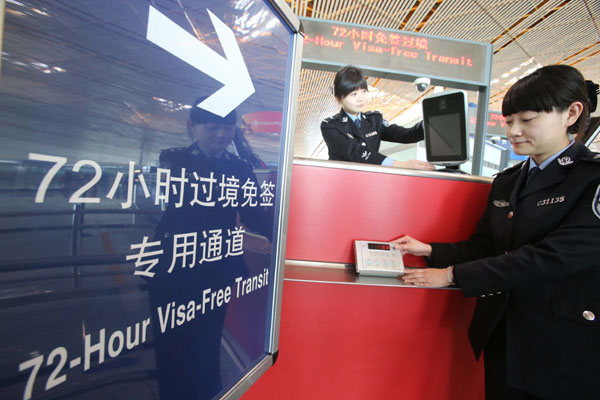 Officers examine equipment at Beijing Capital International Airport designed to process foreign visitors who can make 72-hour visa-free trips to the city from Jan 1. Shanghai is also undertaking preparations to offer the same service to international travelers. CAO BOYUAN / FOR CHINA DAILY
Shanghai-based China Eastern Airlines has planned a full package of services to make the three-day stay enjoyable for foreign passengers, sources from the company said.
"We have packaged our tickets with services including hotel reservations, car rentals, and one- to three-day tours. International travelers will be able to book all these services from our service hotline or our overseas sales offices," said Zhang Qing, deputy senior manager in the marketing development department of China Eastern Airlines' marketing and sales committee.
Booking services will be offered in several different languages, Zhang said.
The visa-free policy is expected to enhance the development of Shanghai as an international city, and stimulate the city's tourism industry, analysts said.
Shanghai already has a program that allows passengers from 32 countries to have 48-hour visa-free stays in the city.
"The prolonged stay period will enable travelers to have leisure time in Shanghai and other cities in the Yangtze River Delta region," said Gao Jianrong, deputy general manager of Pudong passenger services center from China Eastern Airlines' ground service department.
Nearly 500,000 international passengers traveling by China Eastern Airlines have made transits in Shanghai this year, and the amount of transit passengers is expected to grow in 2013, Zhang said.