A train entered Lop Nur in remote Northwest China on Thursday, marking the operation of the first railway connecting the sparsely populated region to the rest of China.
Lop Nur in the Xinjiang Uygur autonomous region still holds the mystery of the disappearance of Loulan, an ancient Silk Road civilization, in the third century. It was also the site of China's first atomic bomb test in 1964.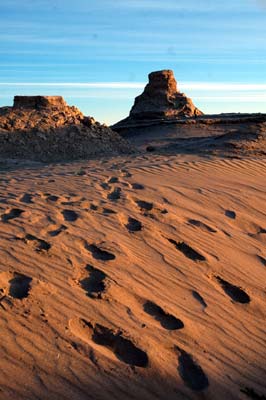 The ruins of Loulan, an ancient city on the Silk Road, in Lop Nur, the Xinjiang Uygur autonomous region, in October 2005. Peng Tong / for China Daily 
Since its lake dried up in the 1970s, the 10,000-square-kilometer area has become a vast salt-encrusted lake bed with an abundance of potassium-rich salt and nonferrous metals, according to geologists.
Prior to the operation of the railway, Lop Nur's only link to the rest of the country was a six-year-old highway.
The 374.8-km railway is widely considered vital for accelerating mining of the abundant potassium-rich salt in the region to boost the country's ability to meet its own fertilizer demand.
The railway was developed by the Ministry of Railways, the Xinjiang government and the State Development and Investment Corp.
Construction started in 2010 and cost an estimated 2.99 billion yuan ($480 million), SDIC officials said.
A subsidiary of the SDIC has a project in Lop Nur producing 1.2 million metric tons of potassium-rich salt a year, with output expected to rise to 2.9 million tons annually, the officials said.
China consumes more than 10 million tons of potash fertilizer every year, 70 percent of which comes from abroad. Lop Nur holds 500 million tons of potassium chloride reserves.
"In addition to potassium salt, the region also holds gold, copper and nickel," said Turgun Hergabura, an official with the Lop Nur township government.
The railway can transport 30 million tons of goods annually, cutting costs in half, according to estimates from the Urumqi Railway Bureau.
The railway links Lop Nur with Xinjiang's Hami prefecture, located near the China-Mongolia border. From there, it connects with the country's main railway networks.
The construction of a highway from Lop Nur to Hami has increased economic development, local residents said. Restaurants, motels and entertainment venues have mushroomed in the former "no man's land".
"Cable television, mobile and Internet networks are all set up here. My wife has come to live with me and run a grocery store. It finally looks like a decent place to settle down," said Wang Junjie, who has lived in Lop Nur for eight years.
Local residents also expect the railway to usher in more explorers who may solve the mystery of Loulan.
In the past, Lop Nur has attracted Swedish explorer Sven Hedin, British archaeologist Sir Marc Aurel Stein and Chinese scientist Peng Jiamu.
In 1980, Peng disappeared during an expedition to Lop Nur and was never found.