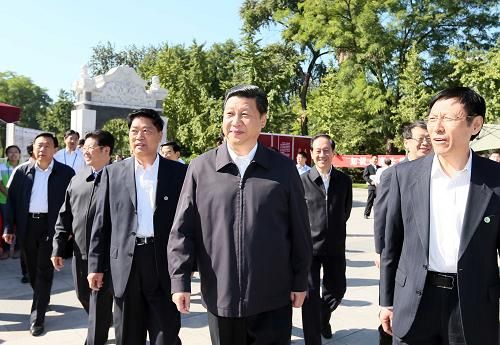 Chinese Vice-President Xi Jinping (C) attends activities marking the National Science Popularization Day at China Agricultural University in Beijing, Sept 15, 2012. [Photo/Xinhua]
BEIJING - Chinese Vice President Xi Jinping Saturday called for strengthening public food and health knowledge in an effort to steer public attention toward food safety issues and prevent misconduct in the industry.
Xi made the remarks while visiting Beijing-based China Agricultural University for activities marking the National Science Popularization Day.
More than 5,200 events will be organized across the country for this year's science popularization day that is running under the theme of energy conservation, environmental protection and health and safety. Activities in Beijing are focused on food and health.
In an exhibit section showcasing instant melamine checks for milk products, Xi said, "Food safety is a significant livelihood issue. While strengthening supervision and punishment, the whole society should be mobilized to focus on the issue in order to create a sound social environment."
After watching children conduct interactive experiments, Xi encouraged them to develop healthy eating habits. He also called on teachers to arrange more activities to promote science that cater to young people's tastes.
"With a huge population and scarce land and water resources, our country must rely on technology to ensure the supply of agricultural products," Xi said, urging agrotechnology workers to continue to boost the country's independent innovation and international competition power in the field.
Praising the university for cultivating many agrotechnology talents, Xi urged the institution to explore more effective ways to utilize technical achievements in serving agriculture, farmers and rural areas.
Moreover, Xi called on various universities and science and technology associations to play greater roles in promoting scientific knowledge among grassroots units such as communities, villages and factories.
Xi was accompanied by senior officials including Liu Yunshan, Liu Yandong and Li Yuanchao during the activities.