CHENGDU - A pair of giant pandas left their home in Southwest China's Sichuan province on Wednesday for a 10-year loan in Singapore, a breeding center said.
Pandas Wujie and Hubao headed to the airport in Chengdu, capital of Sichuan, after a farewell ceremony at the Ya'an Bifengxia Panda Base at 2:30 pm, according to the China Conservation and Research Center for the Giant Panda of Wolong in Sichuan.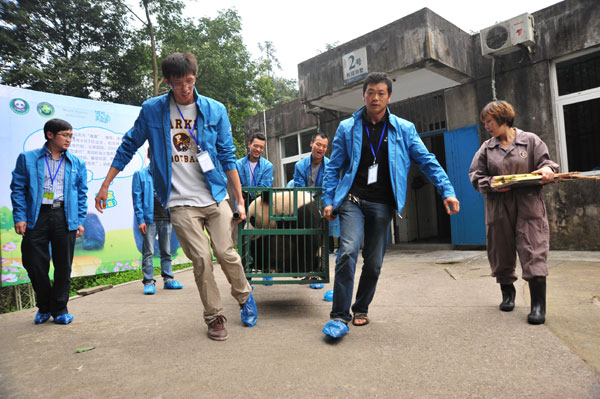 Giant panda Hubao is taken out of her house at the Ya'an Bifengxia Panda Base in Sichuan on Wednesday for a 10-year loan in Singapore. [Photo/Asianewsphoto]
The pandas are expected to leave Sichuan on a charter plane at about 3:50 am Thursday and arrive in Singapore at 8:20 am, the center said in a statement.
The male panda Wujie, known as Kai Kai in Singapore, is five years old and weighs 111 kg. The female, Hubao, known as Jia Jia in Singapore, is a year younger but weighs the same.
Two Chinese keepers will accompany the pandas on their journey to a 1,600-square meter pavilion in River Safari, a river-themed zoo run by Wildlife Reserves Singapore, and continue to take care of them until they are accustomed to their new home, it said.
The pandas will be quarantined for one month upon arrival, and they will spend some time exploring and familiarizing themselves with their new surroundings before being visited by the public, the center added.
The loan is aimed at raising public awareness about wildlife conservation and developing a breeding program for endangered animals.
The bamboo-eating giant pandas are native only to the mountains of southwest China, particularly Sichuan, and are widely considered to be emblematic of China. Due to their low fertility rate, the animals have become endangered. In recent years, China has been active in loaning pandas to foreign countries as a show of goodwill.