Goal for pilot project is weaning hospitals off excessive prescriptions
All public hospitals in the southern boomtown of Shenzhen and one in Beijing have begun scrapping their drug markups, leading the way in a comprehensive public hospital reform aimed at improving the quality of medical services and lower drug costs.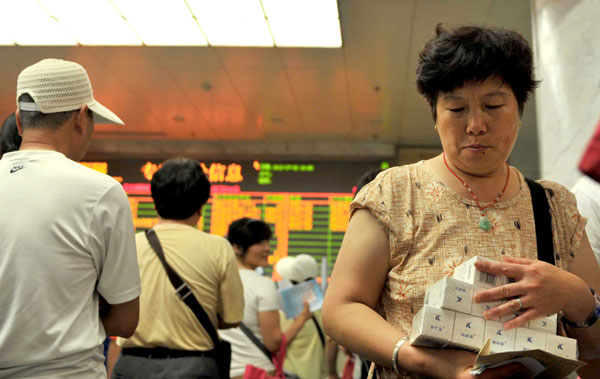 A woman takes away her medicines after paying for them at Beijing Friendship Hospital on Monday. Li Wen / Xinhua
On Sunday, the hospitals in both cities undertook what is deemed the boldest and hardest part of the medical reforms as a trial of the policy intended to take effect across the Chinese mainland, said Ma Xiaowei, vice-minister of health, while inspecting Beijing Friendship Hospital, which was selected for the trial.
Public hospitals on the mainland began in early 1980s to make money selling medicine to support their daily operations after government funding cutbacks.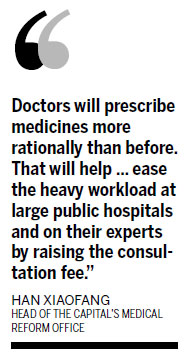 As a result, doctors have tended to prescribe excessive or unnecessary medicines, driving up medical costs and straining doctor-patient relationships, according to Ma.
Under the new initiative, the markup is removed and the economic losses incurred will be covered by increasing medical consultation and service fees.
For a long time, doctors' consultation fees at Beijing's public hospitals cost at most 14 yuan ($2). In the trial at Beijing Friendship Hospital, consultations cost 42 to 100 yuan. Patients covered by the capital's public healthcare insurance will be reimbursed 40 yuan for each medical consultation, so the out-of-pocket cost of seeing a top specialist is 20 to 60 yuan. "As we have expected, the number of patients going to the ordinary outpatient sector increased after the trial began," Liu Jian, president of the hospital, said at a news conference on Monday.
The hospital saw 1,849 outpatients by 4 pm on Sunday. Compared with previous Sundays, the workload this Sunday almost doubled, and the increase mainly took place in the ordinary outpatient sector, Liu said, indicating more people chose to see an ordinary doctor instead of a veteran specialist.
Han Xiaofang, head of the capital's medical reform office, said medicine sales generate costs instead of gaining profits for the hospital.
"Doctors will prescribe medicines more rationally than before," she said. "That will help optimize the use of the healthcare insurance fund, and ease the heavy workload at large public hospitals and on their experts by raising the consultation fee."
Previously, 50 to 60 percent of the hospital's revenue came from selling medicines, Liu Jian said. The markup in medicines prices brought 110 million yuan to the hospital in 2010 and 126 million yuan in 2011.
"It is estimated the higher consultation fee will make up for most of the loss, though the hospital's revenue will decrease slightly, by 2.2 million yuan after the reform," Liu said.
Patients have mixed thoughts about the initiative.
A patient coming from Shandong province to the hospital to treat a blood disease said he didn't see his medical cost change much.
"I used to pay about 700 yuan for the consultation and medicines. Now the same medicines cost 80 yuan less, but consulting the veteran specialist I used to see cost 100 yuan, which is about 80 yuan more than before," he said.
A patient surnamed Hou said she had a stroke and chose to see an ordinary doctor because the consultation fee for a specialist was too expensive for her, and she would get no health insurance reimbursement because she was not a Beijing resident.
Many patients said they would not consider consulting a top specialist because they would have to pay at least 20 yuan out of pocket.
Another patient in the hospital showed two of his receipts and said his hepatitis prescriptions dropped from 322 to 280 yuan.
The medicine costs for Shenzhen public hospital patients also dropped, the city's commission of health, population and family planning said.
Inpatients would save about 7 yuan and outpatients 235 yuan, it said.
The commission estimated removing the markup would cost local public hospitals 10 million yuan, which would be covered by the higher consultation and service fees and subsidies from the city and provincial governments.
Contact the writers at shanjuan@chinadaily.com.cn and wangqingyun@chinadaily.com.cn