Two female cleaners were killed and another seriously injured on Wednesday afternoon when a blast occurred at a power plant in Beijing, the municipal government said in a statement.
The explosion happened at 2 pm due to gas combustion in the instrument control room of a gas-fired cogeneration project in the Taiyanggong area of Chaoyang district.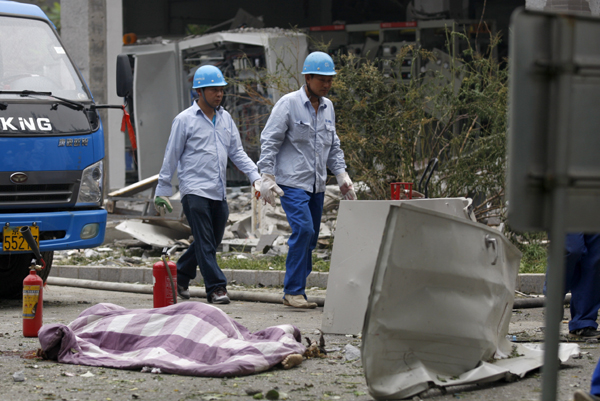 A dead woman is covered with a blanket following a power plant explosion at Taiyanggong in Beijing on Wednesday. Zhu Xingxin / China Daily 
Fragments of bricks and the surrounding fence were scattered on a section of road by the plant, and small trees near the yard were blown down.
A man living nearby told China Daily that he heard a tremendous noise when he was riding an electric vehicle in front of the power plant.
"I thought it was an earthquake at first and immediately stopped by the side of the road, but soon I saw white smoke rising from the power plant," he said.
Hundreds of nearby residents came to see what was going on.
The condition of the injured woman, who was sent to hospital, was not known.
This cogeneration project can provide 3.4 billion kilowatt hours annually and started operation in 2007.
Most of its electricity and heat go to the Olympic venues, according to its website.
Contact the writers at zhengjinran@chinadaily.com.cn and tonghao@chinadaily.com.cn