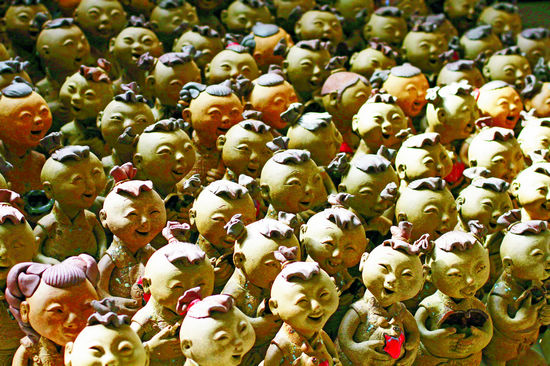 Han Fang's Naughty Children series is popular among collectors. His works are characterized by an exaggerated style which makes his clay characters comic, almost grotesque. [Photo/China Daily]
Han Fang's clay creations are the results of serendipity. Zhao Ruixue and Ju Chuanjiang tell us more about this Shandong ceramic sculptor.
He had dropped a clay sculpture he had almost completed, and that accident changed his artistic direction forever. That marked the turning point for Han Fang, and gave him a signature style that would propel him into the limelight.
The Shandong artist's works are characterized by an exaggerated style which makes his clay characters comic, almost grotesque. For this reason, his works are often described as "caricature-style" clay sculptures.
They celebrate individual character and physical features, and his male figures boast large feet, hands and lips while his female figures are buxom images with plump breasts and barrel hips.
It was not always that way. Han, 40, says the crucial change came in 2003.
"I was working on the finishing touches to the head of a clay figure. I had almost completed it when it slipped and fell from my hands. It struck the ground and I thought it would be out of shape."
Han picked it up, and to his surprise, he saw that the facial features were still intact, but they had become exaggerated - and in a way that he liked very much. It was exactly what he had been looking for.
That little bit of serendipity changed his life.
In 2000, Han was still a businessman in Jinan, the Shandong capital. He was running an advertising agency with an annual turnover of about 300,000 yuan ($47,640). But he shifted his career path after a trip to Henan province in 2002 and saw the porcelain products on sale in Yuzhou.
A week later, he returned home with a collection of porcelain pieces and a 50,000-yuan gas kiln. He was determined to turn potter, a decision that appalled his family.
"My family strongly opposed my idea of starting a clay sculpture workshop. They thought I knew nothing about the art," Han says.
In spite of the opposition, Han went ahead and began making copies of antique porcelain.
For several months, his workshop did not do well and Han had to offset losses by diverting the profits of his advertising agency. It got even worse in the next year as the SARS epidemic affected China and his pottery workshop lost workers.
His advertising business took a hit as well. Han had to choose which he wanted to keep and he chose his workshop.
He spent almost three weeks at home mulling over why his sculptures were not working. That was when that happy accident happened.
"I could not describe how delighted I was. At that moment, I finally understood the nature of the clay," he says.
Han's first series of caricature-style sculptures was completed in April 2003. He named it Who I Am.
In 2005, Han's sculptures made their debut at the first Shandong Caricature Show and immediately created much controversy.
"Some thought my sculptures represented freedom and celebrated natural expression through exaggeration. Others thought the same exaggeration insulted the farmer's image."
Ironically, Han was born to a farmer's family and he understands the lifestyle better than most. He has great empathy with farms and the rural lifestyle and feels his art combines the nature of clay with this affinity.
Han worked hard to infuse the clay with his own sense of humanity and he looked into the mirror every day to capture facial expressions and expressed them in clay.
His perseverance paid off and his successive works have won over the critics. He has also started collecting awards and praise from both the government and the artistic community.
In 2008, his series Friends Coming From Afar was collected by the Olympic Committee, and he received several prizes at state and provincial levels.
There is no lack of passion in Han's works, and one in particular, touched the person closest to him.
"When we first married, I wanted him to give me a jade bracelet as a present. But he didn't, and to date, I still haven't gotten it from him. But I received something even more valuable," says Li Yunli, Han's wife.
Han had given his wife a clay sculpture of an old couple. The old man holds a bracelet wrapped in a handkerchief in one hand, and he has his other hand wrapped around his wife.
"Although he didn't say anything about a bracelet, I know how he feels and what he means," Li says.
"I think the spiritual lasts longer than the physical," Han says, adding that his clay gift shows off his love for her better than anything.
Han's next project is to create a showcase of life in old Jinan, including a cast of 1,000 and historical buildings and bridges. In the meantime, there is always his 800-work homage to erren zhuan at the Liu Laogen Museum in Beijing's Qianmen Street.
For this artist, at least, inspiration for his art will never run out.
Contact the writers at sundayed@chinadaily.com.cn.