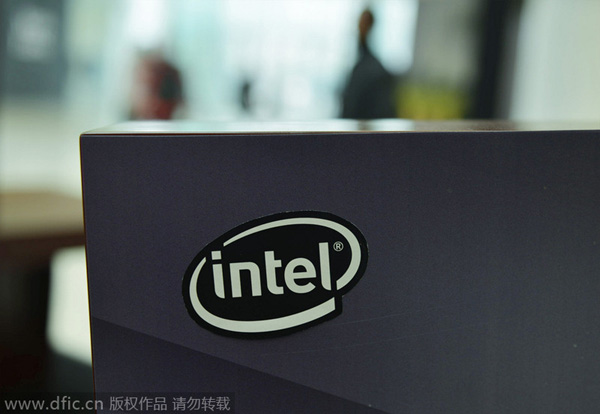 A logo of Intel is pictured at a mall in Hangzhou city, East China's Zhejiang province, September 26, 2014. [Photo/IC]
Intel Corp, the world's largest semiconductor chip maker, said it will invest $5.5 billion in its plant in Dalian, Northeast China's Liaoning province, to upgrade the factory into production of nonvolatile memory chips.
The Dalian plant, which began operations in 2010, is expected to manufacture memory chips by the end of 2016, said the Santa Clara, California-based multinational.
Intel claimed it will invest up to $3.5 billion in the next three to five years and may subsequently increase it to $5.5 billion.
Keyvan Esfarjani, vice president of Intel, said at the signing ceremony: "Nonvolatile memory-based solid-state drives are strong part of Intel's core computing business and key part of Intel's growth strategies."
"This expansion is part of our global multi-source strategy to grow our business and support the strong growing demand by our customers."
This investment is the largest made by Intel in China so far, and will make Intel Dalian the Intel's first global integrated circuit manufacturing center for 300 millimeter non-volatile memory products.
Intel has established a joint venture with a US-based memory chip manufacturer Micron Technology Inc, to produce NAND flash memory chips, which are widely applied into mobile devices and computers.
Micron said the company may use the supply from Dalian plant and anticipated to increase the participation in the future.