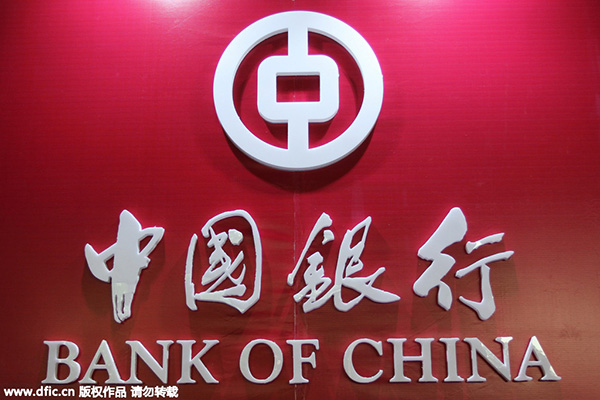 An advertisement for Bank of China in Wuhan, Central China's Hubei province, May 9, 2015. [Photo/IC]
Bank of China Ltd becomes the recent bank to open up its bond market to overseas investors as Tuesday, the State-owned commercial bank launched its Renminbi Bond Trading Index.
Tian Guoli, chairman of the bank's board of directors, was in Beijing to make the official announcement of opening its index to global investors.
This helps international institutional investors understand China's interbank bond market, track the market prices, and enhance the efficiency of trading.
"We hope the index will serve as a guide for overseas institutional investors to make investments in China's interbank bond market, as well as an important reference for global central banks and regulatory authorities to understand China's financial market. In this way, we will make a novel contribution to the development of financial markets and the internationalization of the renminbi," Tian said.
Tian adds that as an important market maker and agent bank in China's interbank bond market, Bank of China has taken the lead in providing global institutional investors with professional services, such as market entry consulting, agent settlement services, and index products.
The index contains four subsidiary indices, namely the clean-price trading index and dirty-price trading index of Chinese government bonds and policy financial bonds. Its main features include high liquidity of sample bonds, stable combined duration, transparent methodology and replicable investment portfolios.
With the promotion of renminbi internationalization, China has accelerated in opening its interbank bond market. In August 2010, the People's Bank of China (PBOC), central bank, allowed three types of institutions, including overseas renminbi clearing banks, to invest in the country's interbank bond market with renminbi funds on a trial basis.
The nation initiated two pilot schemes in 2011 and 2013, allowing renminbi qualified foreign institutional investors and qualified foreign institutional investors to invest offshore renminbi back into China's capital market.
In July 2015, the PBOC announced that it will simplify the procedure for certain overseas institutions to invest in China's interbank bond market with renminbi funds, remove the investment quota ceiling, and widen the investment scope.
By the end of July, the amount of renminbi financial assets held by overseas investors had reached 4.34 trillion yuan ($683 billion) with 800 billion yuan in bonds.