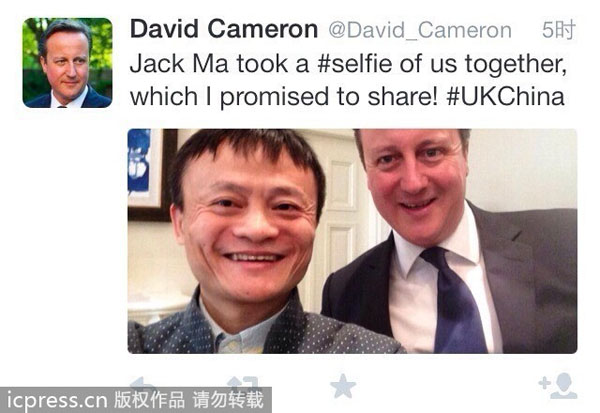 David Cameron posts a photo he took with Jack Ma on Twitter, Dec 3, 2013. [Photo/IC]
About 22 months after taking a selfie together, the relationship between British Prime Minister David Cameron and Chinese business tycoon Jack Ma has moved to the next level.
Cameron appointed Ma, the founder of Chinese e-commerce conglomerate Alibaba Group Holding Ltd, as a member of his business advisory group on the eve of President Xi Jinping's four-day state visit to the UK on Tuesday.
Ma whose e-commerce group raised $21.8 billion in the largest initial public offering in the United States last September is the first Chinese entrepreneur to join Cameron's 19-member business advisory board. According to Cameron's spokeswoman, Ma will "provide particular help and advice on how to get small and medium-sized British businesses boosting their exports and in particular accessing Chinese markets through platforms like Alibaba."
Experts said that the appointment highlights the UK's will to further boost trade between the two countries, which are expected to cement a new "golden era" in Sino-British relations flagged by President Xi's state visit.
"Cameron's decision to appoint Ma as an adviser illustrates just how serious the British government is about accelerating UK exports to China in the coming years," Mark Hedley, e-commerce expert at China-Britain Business Council, told China Daily.
CBBC is a London-based organization that helps British companies grow and develop their business in China.
"As the founder of China's leading e-commerce platforms, no-one is better qualified than Ma to provide the practical tools needed by UK SMEs to penetrate the Chinese market and to understand the particular needs of Chinese consumers," Hedley said.
"SMEs often lack the resources and international experience of larger companies, and have tended to struggle with high entry barriers when trying to reach Chinese consumers through e-commerce channels," Hedley said.
He said that he hoped Alibaba will help to lower these barriers and streamline the process of selling online for British businesses.
Hugo Swire, UK Minister of State for Asia, told China Daily that there are many opportunities for the two countries to work together and the ``best is yet to come.''
"What we've seen in the last 10 years is a quadrupling of British exports to China as the Chinese economy is a key driver of global growth," he said, adding that President Jinping's visit will strengthen UK-China relationships in the areas of trade and investment, economies of the future and working together to tackle wider global issue. Official statistics showed that China-UK trade reached $36.7 billion in the first six months of 2015, a similar level to 2014. The UK is China's second-largest trading partner in the European Union, while China remains the UK's second-largest trading partner outside the EU.
Zhang Jianping, director of the International Economic Cooperation Institute for International Economic Research under the National Development and Reform Commission, said that by appointing Ma as a business advisor for Cameron, it is clear that the UK sees e-commerce as a strong engine to further boost trading volume between the two sides in the years to come.
Compared with Ma, who is a business legend in digital economy, the majority on Cameron's business group are prominent chief executives in industries that are not at all "virtual" including Bob Dudley of BP, Nigel Wilson of Legal & General, Carolyn McCall of easyJet and Jayne-Anne Ghadia of Virgin Money.
"I had the pleasure of hearing Jack Ma speak yesterday. He was insightful, inspiring and provided a positive vision of the good business can do in the world. He will be a great member of any team and I look forward to seeing him again," Gadhia told China Daily.
"Alibaba has built its business empire online based a creative model. It represents an advanced model of the so called Internet Plus, which is supported by China's central government. I think that is what Cameron sees in him," said Zhang.
Hedley, who is very familiar with China's e-commerce business, said that the Chinese government has made a number of reforms in recent months to promote cross-border e-commerce, making it easier than ever before for foreign companies to sell directly to Chinese consumers. For example, the setting up of a number of E-commerce pilot zones has helped to stimulate further investment in e-commerce logistics infrastructure, while also sparking off significant competition between leading e-commerce players like Tmall and JD.com.
Michael Evans, president of Alibaba, announced in London on Monday that the e-commerce giant, which sees cross-border e-commerce a top priority, will give a strong push to further expand into Europe by upgrading its existing London office into the "strategic center" for Europe. "In the coming months, we will open more offices in France and Germany. Using local presences to help more brands and small-and-medium enterprise in Europe to enter Chinese markets," he said.
UK Trade Investment (UKTI), a government-backed body, inked a Memorandum of Understanding with Alibaba at the end of 2013 to encourage more small and medium-sized British firms to reach Chinese buyers via the e-commerce giant's platform.
Last year sales of UK goods on Alibaba's Tmall and its related Tmall Global websites grew 94 percent as an increasing number British brands opted to open up sales channels to Chinese consumers by selling online, according to Tmall. The total value of sales were not disclosed.
To contact the reporters: zhangchunyan@chinadailyuk.com
cecily.liu@mail.chinadailyuk.com