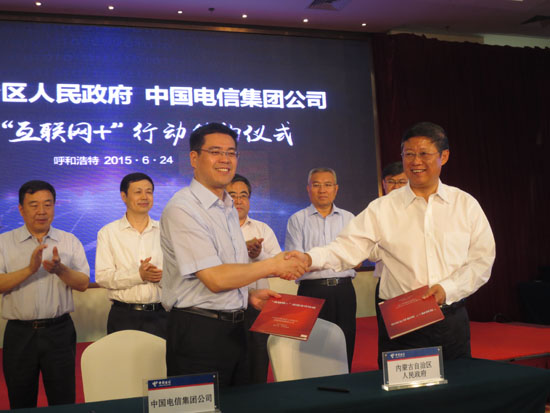 Wang Bo, vice-chairman of Inner Mongolia (R), shaking hands with Chen Zhongyue, deputy general manager of China Telecom at the signing ceremony, on June 24, in Hohhot, Inner Mongolia. [Photo by Wang Xing/China Daily]
China is to encourage the gradual merging of the Internet and other traditional sectors.
The plan will focus on 11 areas, including manufacturing, logistics, public services, transportation and artificial intelligence to integrate traditional industries with advanced Internet technologies.
The National Development and Reform Commission has pledged to remove policy barriers which make it difficult for emerging players to enter some sectors.
The State Council approved plans on Wednesday that had been proposed by Premier Li Keqiang in March.
The Internet Plus action plan targets sectors including agriculture, energy, finance, public services, logistics, e-commerce, traffic, biology and artificial intelligence.
China is one of the world's largest Internet markets with a turnover of more than 900 billion yuan in 2014.