China Unicom pushing 'Internet Plus' in Inner Mongolia
(chinadaily.com.cn)
Updated: 2015-06-26
The Inner Mongolian government reached strategic partnership agreement on "Internet Plus", on June 24, with China Unicom, a Chinese telecommunication operator, which is expected to help the region with an "Internet Plus" plan.
Premier Li Keqiang proposed "Internet Plus" strategy in 2014, which aims to integrate the Internet with industries while encouraging entrepreneurship and innovation.
Traditional industries everywhere are being changed by new information technology, such as cloud computation, big data and the Internet of Things, resulting in new industries, so, Inner Mongolia has made cloud computation, big data and the "Internet Plus" strategic industries, giving them policy support, according to Wang Bo, its vice-chairman, who spoke at a press conference, after the singing of the agreement.
China Unicom says that it has a clear idea about its role in the country's "Internet Plus" strategy and has come up with ways to implement it. China Unicom's largest cloud data center is in Inner Mongolia to facilitate the development of smart cities, e-commerce, and Internet of Things, explained Jiang Zhengxin, deputy general director of China Unicom, at the ceremony, adding that the region has other related projects, with an administrative center, social credit system and in environmental-protection, thanks to the joint effort.
The strategic framework agreement calls for China Unicom to increase investment in Inner Mongolia's "Internet Plus" and to give the region more attention in relation to professional personnel, technology, and capital.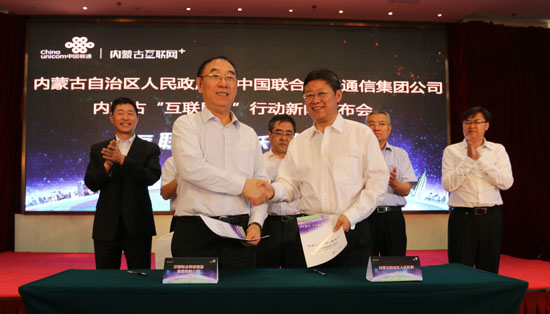 Wang Bo, vice-chairman of Inner Mongolia (R) shaking hands with Jiang Zhengxin, China Unicom deputy general director, at the strategic cooperation signing on June 24, in Hohhot, Inner Mongolia. [Photo by Wang Xing/China Daily]