'Internet Plus Longmen' to be unveiled soon
Updated: 2015-06-26
Longmen Grottoes scenic area management committee and Tencent company made further progress to launch the "Internet Plus Longmen" smart tourism, a new strategy integrating Internet with different industries.
On June 24, the two sides held a conference to finalize plans for the upcoming opening ceremony and the debut of the "Internet Plus Longmen".
Luoyang Mobile also joined in the program to provide network guarantee for the operation of the project. The company will make sure a full WiFi coverage in Longmen Grottoes (Longmen Caves) scenic area, allowing tourists to better experience the new smart tourism service.
The Longmen Grottoes scenic site of Henan province signed a contract last April with Tencent Inc, one of China's largest Internet service companies, to turn Longmen into an Internet Plus smart tourism spot. With Tencent's contribution, the visitors will be able to benefit such smart tourism features as online booking and self-service check-outs.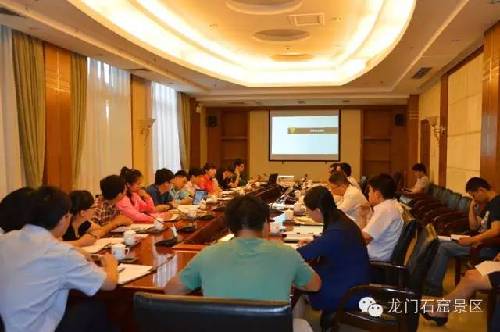 Officials from Longmen Grottoes and Tencent company hold a meeting to discuss details for the opening ceremony of "Internet Plus Longmen" smart tourism, June 24. [Photo/Longmen Grottoes on WeChat]