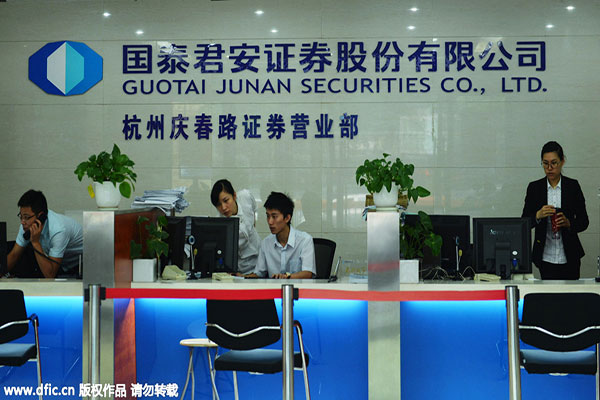 Employees are seen at a branch of Guotai Junan Securities Co Ltd in Hangzhou city, east China's Zhejiang province, 18 June 2015. [Photo/IC]
Guotai Junan Securities, China's largest brokerage by revenue, jumped 44 percent on its first day of trading in Shanghai after it raised 30 billion ($4.8 billion) in the country's biggest domestic initial public offering since 2010.
The stock was suspended after it surged by the daily limit to 28.38 yuan per share, against a 4.1 percent decline of the benchmark Shanghai Composite Index as of 11:30 am.
The Shanghai gauge has plunged 14 percent from a more than seven-year high on June 12 amid concerns that a flood of new listings would lure liquidity away from the existing equities and its year-long rally might have fell short of supportive earnings growth.
Despite the recent rout, the measure has jumped 40 percent since the beginning of this year.
Guotai Junan plans to use some of the capital raised to finance its margin-trading business, said the company in its IPO prospectus.
The Shanghai-based brokerage giant reported a 1.98 times year-on-year increase in net profit attributable to shareholders to 2.83 billion yuan in the quarter ending in March. According to the filing, the company's net profit grew 1.37 times in 2014 to 7.17 billion yuan.