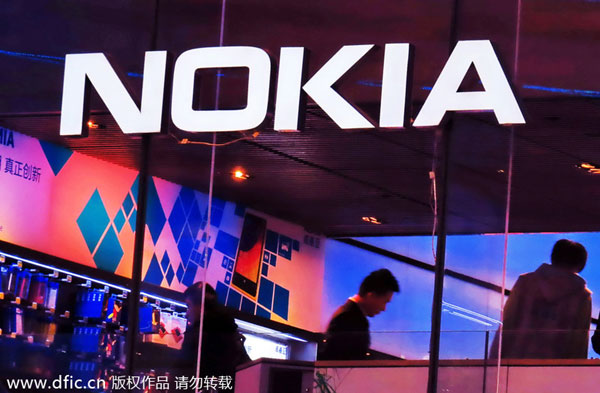 Customers walk past the logo of Nokia at a store in Shanghai, Feb 20, 2013. [Photo/IC]
HELSINKI - Nokia confirmed on Tuesday that it was negotiating a takeover of Alcatel-Lucent, which, if successful, would be carried out through a public offer by Nokia.
However, Nokia claimed that there was no certainty that the talks between Nokia and its competitor Alcatel-Lucent would lead to a merger.
On the European stock markets, the possible transaction was viewed to be risky for Nokia. The value of Nokia shares declined by seven percent on the Helsinki Stock Exchange following the announcement, whereas the stock of Alcatel-Lucent rose by over 13 percent in Paris.
Commenting on the decline of the Nokia share value, Hannu Rauhala, an analyst of the Finnish OP Group bank, told Finnish national broadcaster Yle that an envisaged purchase would increase the risk profile of the company.
Earlier speculation focused on the possibility that Nokia would purchase the wireless business from Alcatel-Lucent, not the whole company.
However, Finnish local media reported that a merger with Alcatel-Lucent could strengthen Nokia's position particularly in the United States and Africa, Finnish local media reported. Alcatel-Lucent was formed in 2006 when US Lucent technologies was incorporated into Alcatel.
Nokia is the third largest manufacturer of network equipment in the world. It is preceded in size by both the Swedish company, Ericsson, and China's Huawei. Following the sale of its mobile phone production to Microsoft four years ago, Nokia has concentrated on telecommunication infrastructures and online map services.