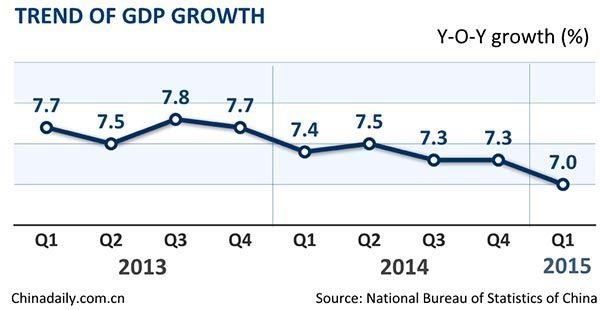 BEIJING - China's economic growth slowed to 7 percent in the first quarter of 2015, down from 7.3 percent in the fourth quarter, the National Bureau of Statistics (NBS) announced on Wednesday.
The latest figure was better than the forecasts by multiple institutions that first-quarter growth would fall slightly below 7 percent due to weak investment and demand.
It also has met an annual growth target of around 7 percent set by the Chinese central government for 2015.
"The Chinese economy is generally holding steady in the first quarter because employment, consumer prices and market expectations are basically stable, despite a slowdown in economic growth," NBS spokesperson Sheng Laiyun said at a press conference held in Beijing.
Sheng said the slowdown was expected as the Chinese government predicted tough challenges and continued downward pressure for the economy this year.
Sheng attributed the slowdown to sluggish global economic recovery in the post-crisis period and the ongoing structural reforms at home.
The first-quarter gross domestic product (GDP) totalled 14.07 trillion yuan ($2.29 trillion), up 7 percent year on year, according to the NBS data, which also indicated a robust industrial output growth of 7.9 percent in the tertiary industry during the period.
During the first quarter, industrial output in general grew 6.4 percent year on year, down from the 8.7 percent growth a year ago; fixed asset investment rose 13.5 percent from a year earlier to 7.75 trillion yuan, slowing further from the 13.9 percent growth registered in the January-February period this year; retail sales gained 10.6 percent year on year to 7.07 trillion yuan, the data showed.
Sheng said that despite slower industrial output and investment growth, the country has steadily pushed forward structural reforms that led to a better industrial layout and rises in people's income.
The tertiary industry accounted for 51.6 percent of the total GDP in the first quarter, up 1.8 percentage points compared to the same period last year. Its share of the GDP also exceeded that of the secondary industry by 8.7 percentage points.
The average per capita disposable income of Chinese households rose 9.4 percent year on year to 6,087 yuan. The consumer price index, a main gauge of inflation, registered at 1.2 percent in the first quarter.