Economy is under great downward pressure amid an ongoingtransition, premier says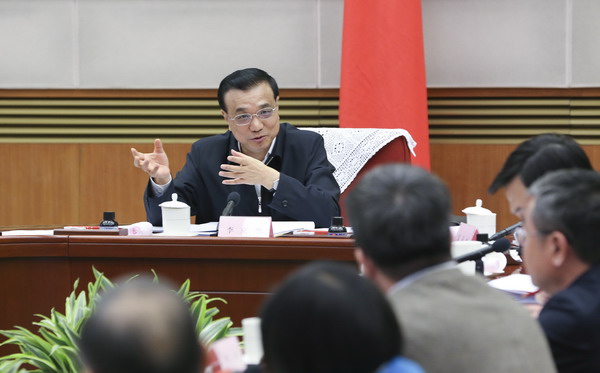 Premier Li Keqiang speaks at a seminar attended by economists and corporate leaders on Tuesday, Beijing, April 14, 2015. [Photo / Xinhua]
Premier Li Keqiang has pledged to use more flexible fiscal measures to sustain growth as the economy faces a difficult point of transition.
On Tuesday, he delivered a candid view of the economic performance in the first quarter of the year, which is likely to have witnessed the slowest growth since 2009.
He summed up the situation by saying, "New dynamics have yet to grow strong while the old are losing steam."
Li said that to overcome a temporary shortage of economic-growth drivers, the central authorities will continue to lead more government investment projects, design policies targeting specific industries and regions, and increase the supply of public projects and services.
The premier was speaking a day ahead of the scheduled release of key economic statistics for the first quarter.
Addressing a seminar attended by economists and corporate leaders, he said the economy is under great downward pressure.
Some industries — even those with advanced technologies — are developing slowly. "Increasing discrepancies are seen among different regions in their economic performance," Li said.
The economy is expected to have expanded by about 7 percent in the first three months, or at an even lower rate.
Rail freight, one of the most important economic indicators used by the premier to gauge economic growth, shrank by 9 percent to reach a six-year low in the same period.
"Economic data in the first quarter are not pretty. ... Traditional economic driving forces such as consumption and investment are diminishing, while new forces are not compensating," Li said.
Stating that the economy is still "in the middle of a transition", he referred to a Chinese agricultural saying: New crops have yet to ripen but the stock has almost been used up.
"However, there will be a ... harvest and it can't be far away," he said, adding that China must get through its current difficulties.
Li said the government will apply different policies to different industries and areas.
"For sectors that we have to save, we will help them find new dynamics. For those that need upgrading, we cannot look on and watch them sink. But for those that are outdated, we will knock them down," he said.
Wang Tao, chief China economist at UBS who was invited to speak at the seminar, said she expects more policy easing and that fiscal and monetary policies will remain flexible. However, a major stimulus is unwarranted, she said.
Sectors with a bright outlook, such as equipment manufacturing and telecommunications, will win more government support, such as tax reductions and wider market access, she said.
"The supply of more public goods also forms part of the measures to give incentives to the sagging economy. Areas most likely to benefit include transportation, the rebuilding of urban shantytowns and the telecommunications expansion," Wang said.
The People's Bank of China, the central bank, cut benchmark interest rates by 25 basis points on March 1 in an attempt to arrest the economic slowdown.
Li Yang contributed to this story.