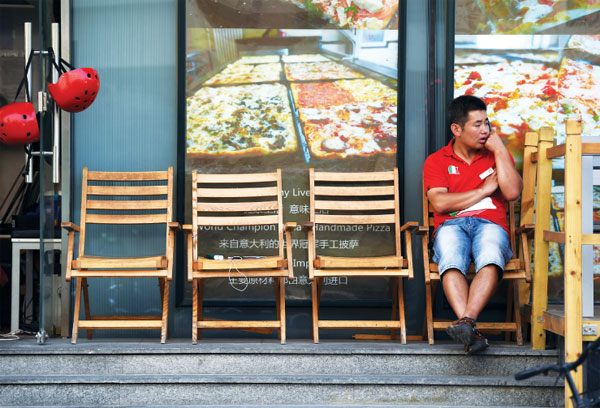 A pizza delivery rider waits for an order outside a pizza restaurant in Beijing in September last year. The Internet has transformed traditional services, including food delivery, and helped mobilize a scattered workforce. [Photo/Agencies]
In Asia's fast-growing new economy, even pizza delivery can turn into a business worth hundreds of millions of dollars.
This is exactly what Ele.me, a Chinese food delivery startup managed last August, when it raised $630 million through a group of private investors.
The money was provided by major companies including CITIC Private Equity, retail chain Hualian Group, China Media Capital and investment company Gopher Asset.
"Sharing is the most advocated value of the Internet, so a lot of the business model called 'the sharing economy' has surfaced in recent years," said Liu Jing, a spokesman for Ele.me, whose online-to-offline (O2O) platform allows consumers to order food deliveries using their mobile phones.
"The core of the sharing economy is the distribution of unused resources," he said. "The labor force is a kind of resource too.
"For society, this has mobilized a scattered workforce and eased employment pressures. For restaurants, it has solved delivery problems and for users, this will significantly shorten waiting time."
This type of business, which taps into new economic models facilitated by technology, better telecommunications and deep Internet penetration, will be a key theme at the annual Boao Forum for Asia (BFA), being held March 22-25.
The annual gathering of government, business and academic heavyweights in the southern Chinese province of Hainan this year has the theme, Asia's New Future: New Dynamics, New Vision.
The conference will feature panels and discussions about how these new economic models will shape Asia's future.
According to the BFA, one study suggests that the sharing economy will be worth $330 billion globally by 2025.
"A lot of small to medium enterprises in China are facing difficulties with financing, (but) with the government's policy support there is a trend of mass entrepreneurship and innovation," said Jin Lin, vice-president at JD Finance and a speaker at the BFA conference. "Crowdfunding has grown fast (against) such a background.
"Product crowdfunding is a reward system for supporters. There is a return risk for the users," added Jin, who believe crowdfunding will grow rapidly. "Decentralization will be the trend for crowdfunding in the future."
Such new models of financing are providing alternatives to weak financial and banking systems in a whole range of industries across Asia, like agriculture and moviemaking.