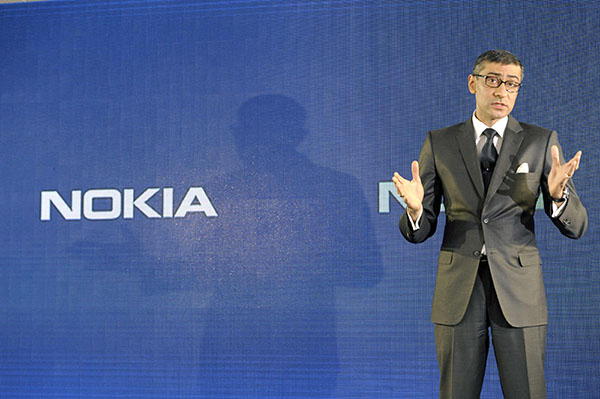 Nokia CEO Rajeev Suri speaks during a news conference to announce its first quarter earnings in Espoo April 29, 2014. Finnish telecoms equipment maker Nokia has money to buy rivals, but will not necessarily need them, the incoming chief executive said on Tuesday, adding that he sees good potential for growth in patent licensing deals. Nokia has cash at hand after a 5.6 billion euro ($7.76 billion) sale of its mobile phone unit to Microsoft. [Photo/Agencies]
HELSINKI - Nokia announced Tuesday that the former head of Solutions and Networks (NSN), Rajeev Suri, will take over the helm at the Finnish telecommunications giant.
The announcement came just days after Nokia completed the sale of its devices and services division to Microsoft.
Nokia chairman Risto Siilasmaa said he believes Suri, the new president and CEO, to be "the right person to lead the company forward" as "Nokia opens this new chapter."
Suri "has a proven ability to create strategic clarity, drive innovation and growth, ensure disciplined execution, and deliver results," Siilasmaa added.
Suri would take office on May 1 and Siilasmaa would continue as chairman, Nokia said.
Born in 1967 in India, Suri joined Nokia group in 1995 and held a wide range of leadership positions between then and 2007. He has been NSN CEO since 2009.
During his tenure as CEO, NSN's business went through a radical transformation and became a leader in the global telecommunications infrastructure industry.
Nokia announced Friday it had substantially completed the sale of its devices and services division to Microsoft. The total price was said to be slightly higher than the 5.44 billion euros (7.53 billion U.S. dollars) initially agreed last September.
Nokia and Microsoft made certain adjustments, including an agreement not to transfer Nokia's manufacturing facilities in Chennai, India and Masan, South Korea to Microsoft.
Nokia first announced the sale of its devices and services business to Microsoft on Sept 3, 2013. Nokia shareholders approved the sale on Nov 19, 2013.
Nokia sale of unit to Microsoft approved
Nokia launches new music service
Microsoft to offer Windows for free on phones, tablets