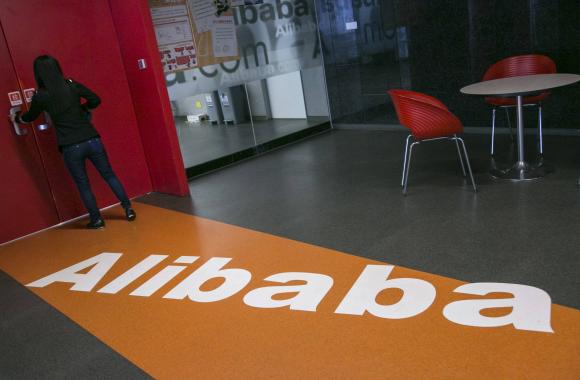 A woman stands next to a door inside the headquarters of Alibaba in Hangzhou, Zhejiang province, April 23, 2014. [Photo/Agencies]
Alibaba Group Holding Ltd said on Wednesday it will buy all the remaining shares of mobile browser firm UCWeb in the biggest merger in Chinese Internet history, as the e-commerce giant steps up its spending spree ahead of its US listing.
Alibaba's latest deal, hot on the heels of a string of investments which already total $4.8 billion in the past six months, will be larger even than Baidu's $1.9 billion acquisition of 91 Wireless last year, Alibaba said.
Alibaba's investment in UCWeb emphasises the company's push to do more business on mobile in the world's biggest smartphone market. But rival Tencent Holdings Ltd, China's biggest listed Internet firm, dominates smartphone screens with its near-ubiquitous mobile messaging app WeChat, a situation which Alibaba executives have publicly railed against.
"This integration will create the biggest merger in the history of China's Internet," Alibaba said on its microblog.
Alibaba already held about a 66 percent stake in UCWeb, according to its May IPO filing.
The e-commerce giant and UCWeb will form the UCWeb Mobile Business Group responsible for Internet browsers, search services, location-based services, the mobile gaming platform, mobile application distribution and mobile literature services, UCWeb said in a statement.
UCWeb Chief Executive Yu Yongfu will act as chairman of the business group and become part of Alibaba's "strategic decision-making committee", Alibaba said.
Alibaba is preparing for a US initial public offering that could value the firm as high as $150 billion, according to analyst estimates. Even so, the firm and its affiliates have splurged on investments totalling more than $6.7 billion in the past six months alone.
The deal will mainly be done using Alibaba's stock with a smaller part as cash, Alibaba said.
UCWeb said the mobile search service had a market share of more than 20 percent.