Alibaba takes the field in support of soccer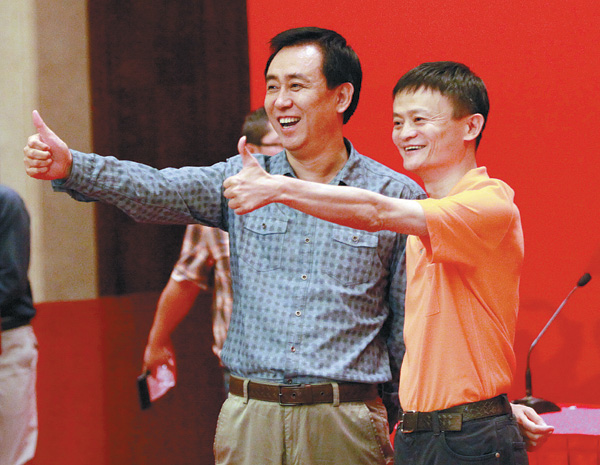 Ma Yun (right), Alibaba founder and chairman, and real estate tycoon Xu Jiayin celebrate after signing a deal in Guangzhou on Thursday that will see Alibaba Group pay 1.2 billion yuan ($192 million) for a 50 percent stake in China's top soccer club Guangzhou Evergrande, previously wholly owned by Xu's property developer Evergrande Group, which gives the club its name. Qiu Quanlin / China Daily
The increasing involvement of Chinese businesses in the soccer industry, such as e-commerce giant Alibaba's latest purchase of a stake in a top Chinese soccer club, is widely expected to spur the sport in the country.
On Thursday, Alibaba Group agreed to pay up to 1.2 billion yuan ($192 million) for a 50 percent share of Guangzhou Evergrande Football Club, the defending Chinese Super League champion owned by Chinese property giant Evergrande Group.
Alibaba's investment is part of a "strategic decision" to increase the club's capital, the property developer said. That also includes bringing in 20 more shareholders with 200 million yuan each.
"The investment will eventually help boost the club's strength and competitiveness," said Xu Jiayin, chairman of Evergrande.
Introducing Alibaba as a "strategic partner" is in line with efforts to improve Chinese soccer, Xu said.
"Teaming up with another business giant will provide solid financial support for the club's development and help boost its presence in the Asian arena," Xu said.
The club will introduce more strategic partners to prepare for a public listing, he said.
"We are not investing in soccer for the short term. We want to build a club that has a long history," Xu said.
Under hefty investment from the property developer, the Guangzhou club won the domestic title the season after it was promoted to the Chinese Super League in 2011.
Evergrande broke China's 23-year Asian title drought when it clinched the Asian continental club championship in 2013. It is seeking to defend its AFC Champions League title under Italian manager Marcello Lippi.
China launched a professional league in the early 1990s but has yet to make its mark on the global soccer stage.
President Xi Jinping, also a big soccer fan, has made several public comments on his wishes for the game's development - China reaching the World Cup, China hosting the World Cup and, ultimately, China winning the coveted trophy.
During his visit to Germany in March, Xi said China should focus more on developing and promoting soccer among young people.
Peng Weiguo, a retired national team player, said increased investment in the sport from big businesses will help boost its development at home.
"The cooperation between Alibaba and Evergrande sets a positive direction for Chinese soccer - more business tycoons are confident about the soccer industry," said Peng.
Following a nationwide crackdown on soccer scandals in the past few years, including game-fixing and gambling, a growing number of top business groups have started investing in soccer clubs.
More than 3 billion yuan was injected in the Chinese Super League in 2013, with the funds mostly from top property developers.
"The investment is good, both for players and coaches and the entire soccer industry, given that Chinese soccer has been slammed for quite a long time," Peng said.
Peng, who trains young players in the reserve team of Evergrande, said more funds are needed to develop new talent.
"More businesses joining the soccer industry have helped improve the domestic soccer environment in the past few years. I believe that more young people will start playing soccer," said Peng.
Ma Yun, founder and chairman of Alibaba, said the e-commerce company is investing in a "happy and promising sport".
"Soccer is a very charming sport. Investing in the industry is more like investing in happiness. It is a rational approach," said Ma, whose company is preparing for a multibillion dollar share offering in the United States.
Acknowledging that he knows little about soccer, Ma said the investment was not only for Evergrande, but also for Chinese soccer.
"Soccer should be a happy sport. And we want to bring a happy sport to people, to let them play soccer," Ma said.
Chinese soccer fans also welcomed the latest deal, saying that it could give the club access to Alibaba's deep pockets to further build the team.
"It's an alliance between giants. We can see a bright future for Chinese soccer," said Cao Xunsheng, a Guangzhou native.
qiuquanlin@chinadaily.com.cn