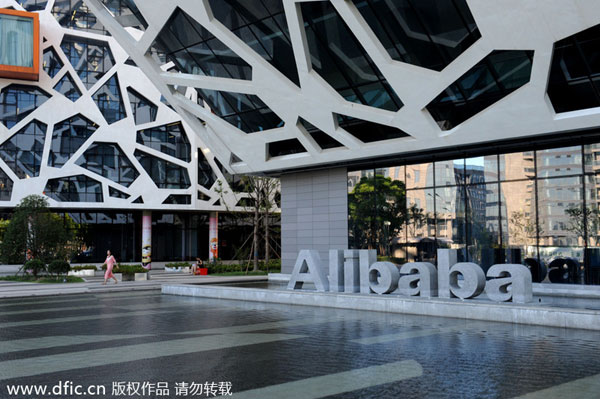 People visit the headquarters of Alibaba Group in Hangzhou, east Chinas Zhejiang province, Aug 20, 2013. [Photo/IC]
Even as Alibaba Group Holding Ltd prepares for what could be the largest tech initial public offering in history, its top officials are racking their brains on ways to retain talent.
The initial public offering, which analysts estimate could value the Chinese e-commerce behemoth up to $170 billion,
could generate more than a handful of millionaire employees after their shares are unlocked. Company officials are apprehensive that the these new millionaires may want to move on, thereby leaving the company bereft of several key personnel.
According to Alibaba's draft prospectus, current and former employees hold 26.7 percent of the existing shares, and many of then have enhanced their holdings through stock options and other incentives since 1999.
That could translate into roughly $44.8 billion worth of unlocked shares, according to estimates from a Bloomberg survey of analysts.
Alibaba, however, has not disclosed the exact number of employees who hold shares in the company. These could include top managers, marketing personnel and software designers, sources said.
Several BMW dealerships in Hangzhou, where the company is headquartered, have already received inquiries from Alibaba employees asking if they have models in the company's corporate color of orange, Reuters said.
Some of the 20,000 employees have already had the opportunity to sell part of their stakes during previous Alibaba structured share sales through the so-called liquidity programs, according to the Reuters report.
Such worries have also been expressed in company filings.
"It may be difficult for us to continue to retain and motivate these employees, and this wealth could affect their decisions about whether or not they want to remain with us," said an Alibaba employee in Hangzhou who asked not to be named because of the sensitivity of the issue.
"I know of a director-level executive who is determined to leave after the shares are unlocked."
The concerns are far from overwhelming. According to Reuters, Facebook Inc millionaires spent some of their cash booking a trip with a private space tourism company and on an exploration of ancient Mayan ruins in Central America, while some Google Inc shareholders cashed in during the Internet firm's IPO to travel around the world.
In recent years, Alibaba executives have discussed with employees how the IPO windfall gains could change their lives, and counseled them on becoming "dignified and warmhearted" people who are always willing to help.
Last month, Jack Ma, the company's charismatic founder had told employees of the group's micro-finance business unit that they should not spend their big fortune from the IPO on "glitzy things".
Ma also wrote a memo on Laiwang, a mobile chat app developed by Alibaba, saying that the long-term development of the company relies on attracting high-profile talent and in building up a common value system.