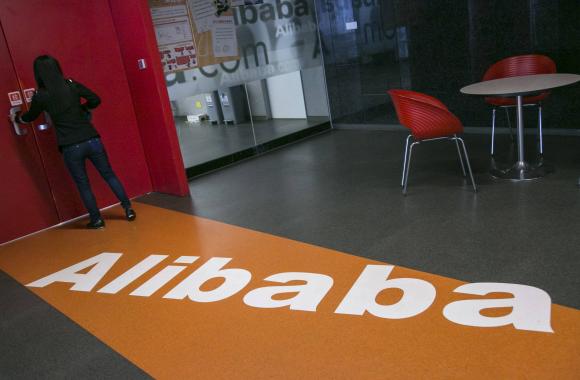 A woman stands next to a door inside the headquarters of Alibaba in Hangzhou, Zhejiang province, April 23, 2014. [Photo/Agencies]
As Alibaba prepares for what could be the biggest tech company IPO to date, the Chinese e-commerce giant has been counseling employees on how to deal with the roughly $41 billion they could unlock through a New York listing.
While some staffers have enquired if premium brand BMW sells cars in Alibaba's corporate orange, others may invest windfall stock gains in property in North America or channel funds back into start-up ventures in China, hoping to build future Alibabas, bankers and financial planners say.
The company, though, has been preparing employees for years on how to manage the avalanche of cash, warning them not to be carried away and splurge on material goods.
While Alibaba Group Holding Ltd's co-founders Jack Ma and Joseph Tsai are already billionaires, many more paper millionaires could be minted once employees are free to sell shares some time after the IPO.
Current and former Alibaba employees hold 26.7 percent of the company, having built up their holdings through stock options and other incentives awarded since 1999, according to securities filings, though these didn't detail the number of employee shareholders.
The IPO windfall - Alibaba could be worth $152 billion, according to the average from a Reuters survey of 25 analysts - will be larger than anything China has seen because of the depth of the group's employee ownership and the size of the company.
Not just managers, but software engineers and staff from sales and marketing and related companies such as Alipay also stand to benefit from selling shares after the IPO.
Some of the 20,000 employees have already had the opportunity to sell part of their stakes during previous Alibaba structured share sales through so called liquidity programs.
"The thinking was that if sudden wealth is like venom, giving small doses every now and then was a bit like anti-venom because your company isn't thrown into chaos," said a person familiar with Alibaba's incentive plans who was not authorized to speak publicly on the matter.