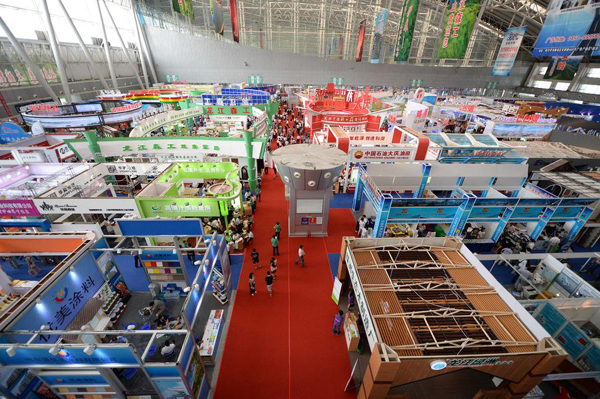 The first China-Russia Exposition opened  in Harbin, capital of Northeast China's Heilongjiang province on June 30, 2014. [Photo/Xinhua]
HARBIN  - China and Russia, two emerging market economies, should deepen their economic cooperation to maintain a more sustainable and solid bilateral relationship.
At the ongoing first China-Russia Exposition in Northeast China's Heilongjiang province, delegates from the two countries gathered to discuss cooperation prospects in a wide range of economic areas, which fully demonstrate not only the two sides' willingness to deepen their economic ties, but also the huge potential to be tapped in economic cooperation.
Compared to political and security issues which have always been high on the agenda of the relationship, economic ties seem to have been the weak link.
However, if China and Russia want to improve the quality and sustainability of their relations, more emphasis should be given to the economic cooperation, which is the strongest bond in any relations.
Sharing a common border of more than 4,000 kilometers, the two neighbors have different advantages in resources, markets and technologies, which make their economies highly complementary and are the major driving forces behind their overall cooperation.
A fast-growing Chinese economy and resources-rich Russia make a good match economically, while Russia sees China as a key gateway to tap the unbounded market and growth potential of the Asia-Pacific region.
Governments of both sides have been making efforts in promoting economic cooperation.
The landmark 30-year gas deal signed in Shanghai during Russian President Vladimir Putin's state visit in May, which is of great economic and geopolitical significance, was among many measures the two countries undertook in promoting trade and economic cooperation.
Trade volume of the two countries neared a record high of $90 billion in 2013.
Yet there is still much to do, since the biggest part of trade in Russia's exports to China is still raw materials, while industrial products exported from China to Russia are mainly of low technological content.
The two countries should diversify their trade and economic exchanges by further exploring such areas as high technology, nuclear power, transportation, aviation and finance.
During the China-Russia Exposition, a set of conferences and forums about bilateral cooperation in navigation satellite systems, finance and e-commerce are being held, sending a positive signal to the world that more economic interactions in a broader spectrum between the two countries are expected in the future.
Closer ties between China and Russia backed by extensive economic cooperation will not only benefit the development of the two countries but also the world as a whole in a turbulent global economy.