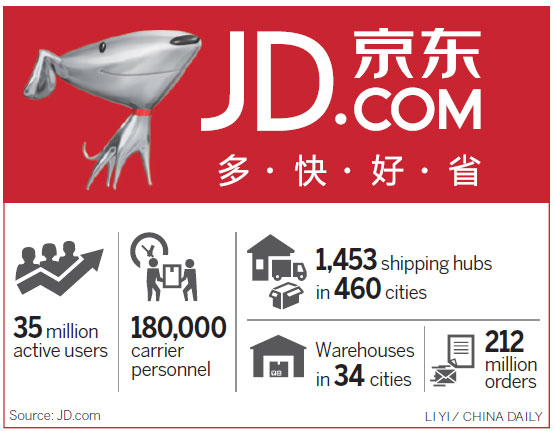 A new wave of enthusiasm for Chinese companies swept Wall Street as e-commerce giant JD.com Inc made its Nasdaq debut on Thursday.
Shares of the Chinese online retailer closed at $20.90 on the first day, 10 percent higher than the offering price, igniting hopes that tech stocks, along with China concept shares, are on the mend.
The company's initial pricing topped the expected range of $16 to $18 per share.
The $25.7 billion valuation made JD.com, whose business is largely limited to China, the largest tech offering ever in the United States.
The lack of profitability of JD.com didn't seem to deter investors, said Hong Bo, founder of IT portal IT5G.
Earlier this week, JD.com reported a first-quarter net loss of 3.795 billion yuan ($608.4 million), in contrast to a year-earlier profit of 13 million yuan. Some analysts speculated that figure would affect its IPO performance.
Investors shrugged off the news, giving more weight to growth potential than short-term financial performance, Hong said.
The retailer's business model resembles that of Amazon.com Inc, which has proven to be successful and sustainable in the United States market, said Lin Wenbin, analyst at research firm Analysys International.
"Tantalizing" sales prospects helped JD double its valuation from the goal set in its prospectus last December, said Wang Liyang, a veteran technology commentator.
"Partnering with Internet giant Tencent Holdings Ltd" helped inspire investors to imagine a bright future for the company, Wang said.
JD's inflated capitalization may boost the valuation of rival Alibaba Group Holding Ltd, which filed for an IPO in March. Alibaba's market value is projected to top $150 billion.