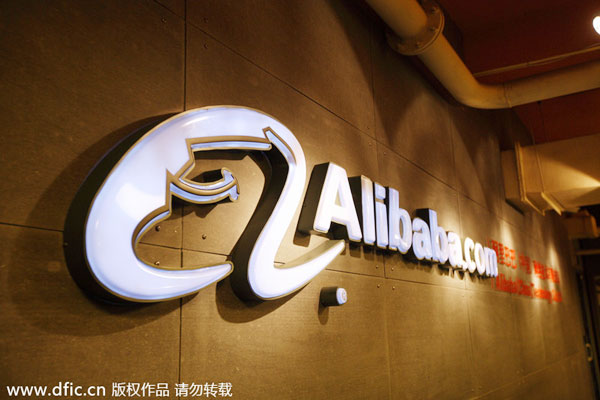 The logo of Alibaba.com is seen at the headquarters of Alibaba Group in Hangzhou city, east Chinas Zhejiang province. [File photo/dfic.cn]
HANGZHOU -- The world's leading e-commerce company Alibaba will promote French brands to Chinese consumers through its online platforms, under a new deal with the French government signed Friday.
Alibaba will help French businesses expand sales in China by providing them with express enrollment, brand promotion and marketing support on its online retail platform Tmall.com, according to the three-year cooperation deal.
The deal was reached Friday night at Alibaba's headquarters in Hangzhou, capital of East China's Zhejiang province, pursuant to a Memorandum of Understanding signed between the company's founder and chairman Jack Ma and French Foreign Minister Laurent Fabius.
"This agreement is a wonderful opportunity to allow more and more Chinese customers to discover new French brands through a modern system of distribution," said Fabius during his visit to Alibaba Friday.
"We are confident it will significantly widen the choice of French products available for Chinese consumers who will enjoy their well-deserved reputation of high quality and security," said Fabius.
Jack Ma said the deal embodied the company's mission to "help make it easy to do business anywhere".
Ma first discussed the possibility of the deal with Fabius during a visit to Paris in March.
"This MOU is an example of how Alibaba Group can work hand-in-hand with foreign trade entities to expand global cross-border trade in order to benefit both global businesses and Chinese consumers through our marketplaces," said Ma.
Under the agreement, Alibaba Group's related company Alipay and its affiliated company China Smart Logistics are committed to support Alibaba Group's endeavors with their remittance and logistic functions.
Following Friday's signing of the agreement, Tmall.com will launch a French brands promotion campaign participated by more than 30 online flagship stores.
The week-long "Elegance of France" campaign, beginning on May 19, will highlight exclusive product launches and specialty limited-edition items from the featured French brands.
The 15-year-old Alibaba is the world's largest online and mobile commerce company. It had a gross merchandise volume of $248 billion in 2013 on its three major trading platforms.