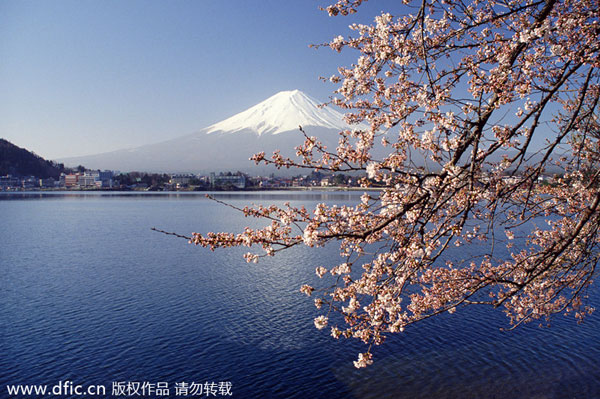 Lake Kawaguchi and Mount Fuji of Japan are shown in this photo taken on May 30, 2013. [Photo/dfic.cn]
Weaker yen, higher Chinese wages affect Jan-April inflows of capital
Japan's direct investment in China plunged in the first four months of 2014, with many Japanese companies taking a wait-and-see attitude amid uncertain bilateral business relations.
The depreciation of the yen and rising wages in China also took a toll.
China absorbed $40.3 billion in total FDI from January to April, up 5 percent from a year earlier, indicating steady global investor confidence in the world's second-largest economy.
However, FDI from Japan dropped 46.8 percent to $1.6 billion. Investment from the United States fell too, but by a less dramatic 11.4 percent to $1.2 billion.
Chen Yongjun, a professor at the School of Business of Renmin University of China in Beijing, said Japan's investment in China's heavy industry - especially in the vehicle and electronics sectors - significantly declined after sales of Japanese vehicles, auto parts and electronic products plunged in 2012.
"The decline came after the Japanese government's unilateral move in 2012 to 'nationalize' the Diaoyu Islands, which have been Chinese territory since ancient times," said Chen.
Meanwhile, vehicle producers from the US, Germany and South Korea moved to grab market share in China since 2012.
"Japanese companies in different sectors have changed their business strategies by focusing more on market development and the service industry in China," said Chen.
Benefitting from healthy bilateral relations, South Korea raised its investment in China at a fast pace in the first four months.