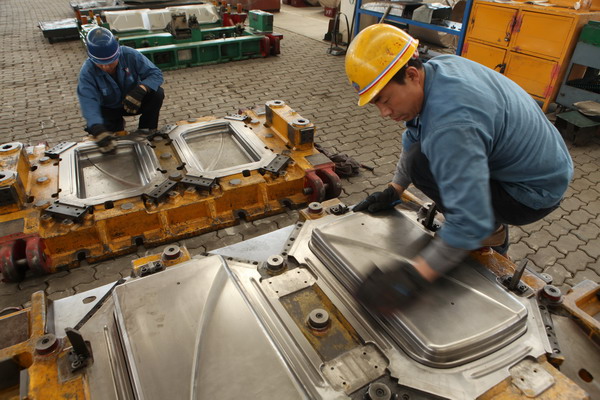 Workers produce auto parts at a factory in Rizhao, Shandong province. Provided to China Daily
Current quarter could be weak, but leading indicators signal improvement
The deceleration of China's economy may continue during the current quarter, but an uptick in some leading indictors point to improvement in the months ahead, an economist from a government think tank said on Friday.
Chen Dongqi, vice-president of the Macroeconomic Research Institute of the National Development and Reform Commission, told a news conference that given the time lag between leading indicators and output indicators, a weak April could mean economic improvement may be some time off.
To the disappointment of many observers, most of the output indicators in April, including industrial output, fixed-asset investment and retail sales, showed slower year-on-year growth compared with March.
Those figures sparked concern that the economy is losing steam instead of stabilizing.
The latest data - a report on electricity consumption released on Thursday - confirmed that view for many. Power use expanded 4.6 percent year-on-year last month, 2.2 percentage points slower than in March.
Chen said when forecasting the economic trend for the coming months, it's better to look at leading indicators such as M2 (broad money supply) and the Purchasing Managers Index.
Last month, M2 increased 13.1 percent year-on-year, up from 12.1 percent in March. The growth rate beat many economists' expectations.
The PMI readings for manufacturing (both official and private-sector reports) edged up in April from March.