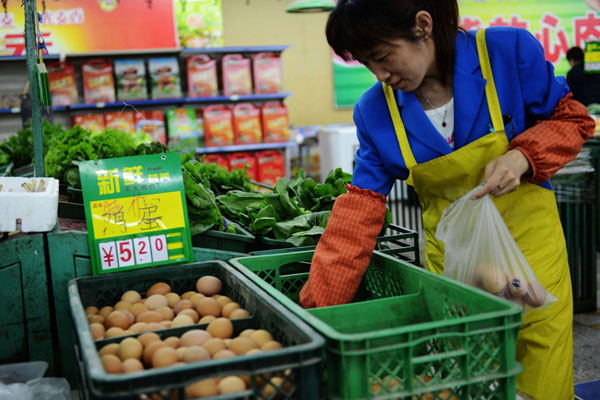 Eggs are sold at a supermarket in Qingdao, Shandong province. According to the World Bank's purchasing power parity-based calculations, China's economy was equivalent to 87 percent of the US economy in 2011. Yu Fangping / For China Daily
Flawed purchasing-power method used in report, many experts say
A World Bank projection that China will overtake the United States as the world's largest economy this year has mostly prompted doubt and rejection in China itself.
Even the National Bureau of Statistics, which took part in the study, rejected its conclusion, according to the World Bank report.
The NBS "expressed reservations" about the study's methodology and "did not agree to publish the headline results for China," the report said. The NBS didn't respond to a request for comment.
The World Bank's International Comparison Program in Washington, together with governments in many nations, conducts a survey of real local-currency purchasing power every five years.
According to the ICP's purchasing power parity-based calculations, China's economy was equivalent to 43 percent of the US economy in 2005. The ratio rose to 87 percent in 2011, when the most recent survey was conducted.
Based on these findings, the ICP said that China's ascent to the top of the world's economic ladder may take place as early as this year.
Most Chinese media cast doubt on the assertion. Citing domestic experts, media reports stressed China's status as a middle-income and developing country. They also pointed to flaws in the PPP calculation, saying this method always tends to overestimate developing countries' economic might.
When asked about the World Bank's report on Wednesday, Alfred Schipke, senior resident representative of the International Monetary Fund in China, said the debate was mostly an academic one with little relevance to actual living standards.
"China will definitely be the largest economic power, sooner or later. But that is not what ordinary Chinese care about. At the end of the day, ordinary Chinese care about their incomes," he said.
He said even if using the World Bank's number (GDP in PPP terms), China's GDP per capita is only 25 percent of that of the United States. "So there is huge room for improvement," he said.