Nations agree to cooperate on rail, energy and farming projects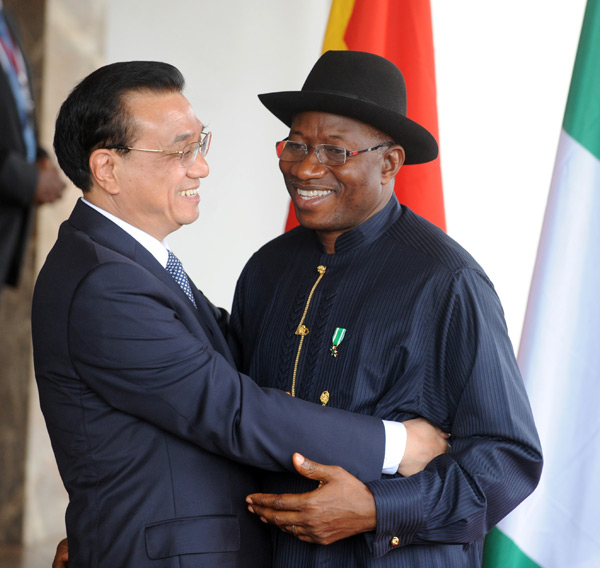 Premier Li Keqiang greets Nigerian President Goodluck Jonathan on his arrival at the presidential villa in Abuja on Wednesday. [Photo/Agencies] 
China signed a slew of deals with Nigeria on Wednesday, including cooperation on landmark infrastructure projects, on the first full day of Premier Li Keqiang's visit to the African economic powerhouse.
Li also vowed strong support for Nigeria in its fight against terrorism.
Li and Nigerian President Goodluck Jonathan officiated at the signing ceremony for the deals after talks at the president's residence. They met last year when Jonathan visited Beijing.
"We're happy to see a fast developing Nigerian economy. It has become Africa's largest economy and keeps rising. ... I believe we'll become motivators of each other," Li told reporters after the meeting.
The deals signed cover an upgrade for Nigeria's communications network, solar power plant construction, as well as agriculture and investment.
Railway communication signals and mining rights were included in the deals but details were not disclosed.
China also donated medical equipment and drugs to help Nigeria fight malaria.
The deals were signed two days after China Railway Construction Corp inked a $13.1 billion deal to build a high-speed railway in Nigeria, one of the largest foreign railway projects China has signed.
Under the contract, the company will build a 1,385-km single-track line for trains that will run at up to 120 km an hour.
"The project will be significant for Nigeria's economic development," Li said, adding that Beijing will push for an early start.
China Railway Construction Corp said it has hired more than 4,000 local workers for the project, while 5,000 more are expected to help operate the line after work is completed.
The two leaders also agreed to start direct flights between their nations, to set up a bilateral commission and facilitate financing services for small and medium-sized Nigerian enterprises.
Yao Guimei, a researcher of African studies at the Chinese Academy of Social Sciences, said Nigeria will continue to prioritize economic development.
"Infrastructure is an urgent requirement ... and the focus of cooperation with China."
Shi Yongjie, an expert at the China-Africa Development Fund, said, "Premier Li stressed in his speech at the African Union headquarters on Monday that infrastructure construction is key to Africa's development."
Chinese enterprises have repaired 4,500 km of rail lines in Nigeria since 1995, Commerce Minister Gao Hucheng said on Wednesday.
Nigeria leads the continent in key infrastructure projects involving Chinese enterprises, said Gao, who was accompanying Li on the visit.
There was close cooperation between Chinese enterprises and Nigerian telecommunications operators to ensure that Nigeria's mobile phone penetration rate reached 91 percent in 2013, rising from less than 1 percent in 2001.
Nigeria has become China's third-largest trade partner and second-largest export market in Africa, while China is Nigeria's third-largest trade partner.
Two-way trade reached $13.6 billion in 2013, almost five times the figure in 2005, Gao said.
Li arrived in Abuja on Tuesday evening from Ethiopia on the second leg of his four-nation African tour that also includes Angola and Kenya.
In Abuja, he will attend the 2014 World Economic Forum on Africa, dubbed "Africa's Davos", and meet other African leaders.
Contact the writers at zhaoyinan@chinadaily.com.cn and lixiaokun@chinadaily.com.cn.
Related:
China, AU to comprehensively deepen co-op