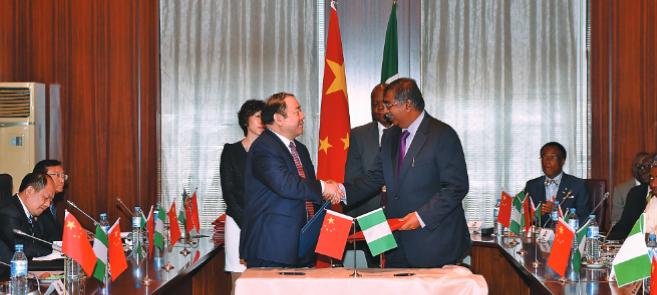 Representatives of China National Heavy-Duty Truck Group Co and Africa's Dangote Group signed a $100-million deal on Wednesday for an assembly plant that is designed to produce 5,000 heavy-duty trucks a year in Lagos, Nigeria. Provided to China Daily 
China National Heavy-Duty Truck Group Co signed a $100-million deal for a new assembly plant to produce trucks in Lagos, Nigeria.
The nation's leading heavy-duty truck maker hopes the project will give its business in Africa a further boost.
The new knocked-down assembly line is a joint investment established by the Shandong-based company, also known as Sinotruk, and Africa's industrial giant Dangote Group.
When completed, the plant is expected to produce 5,000 heavy-duty trucks a year.
The deal is part of a raft of a
gree
ments due to be signed off between China and Africa during Chinese Premier Li Keqiang's visit to Ethiopia, Nigeria, Angola and Kenya from May 4 to 11. It is Li's first visit to Africa since taking office in 2013.
Li and Goodluck Ebele Jonathan, president of Nigeria, attended the deal signing ceremony in the Abuja Presidential Palace on Wednesday morning.
"The African market is one of the most significant parts of our 'go-global' strategy. We have long been committed to developing close business ties with our partners in the continent and contributing more to the economic growth of African countries," Ma Chunji, chairman of Sinotruk, told China Daily.
Backed by the China-Africa Development Fund, the new assembly plant will add a sharp competitive edge to Sinotruk by saving transport costs and also create more jobs for local workers and transfer skills to them, said Ma.
Established in 1956, Sinotruk was a pioneer in the development of heavy-duty truck manufacturing in China. The nation's first wholly self-manufactured heavy truck rolled off its assembly line in 1960.
The company's product portfolio includes heavy, middle and light-duty trucks, passenger cars, special purpose vehicles and construction machinery.
The product lineup for heavy-duty trucks alone has grown from one series and 78 models in 2001 to nine series and more than 3,000 models today.
Ma said the company has held the biggest share of the domestic heavy-duty trucks market for years.